Chapter 4, Part 1

Boris

I arrived in France early for our annual get together so that I could take in the annual Nectar Festival. The festival begins on June 4th and lasts for over 2 weeks. Quite possibly the largest of its kind in France. This year it is being held at the Nectary in Champs Les Sims, the village where Molly is attending college, so I decided to fly in early and take in some of the festival before meeting up with my friends.

I landed in Paris on Jun 3rd, and quickly found the auto rental stand after making my way through customs. I procured directions to the festival and was on my way. The roads of France definitely offer a different driving experience from back home. A few hours and a couple wrong turns later, I arrived at the village. I found my way to the central marketplace. Spying a restaurant, I realized I was hungry and made my way to a table. No sooner had I taken a seat, when a well dress French woman approached.

I [wrongly] assumed she was the waitress, and began to place my order. "Hello, I would like to sample your fro..."




She giggled, "Oh, no, Monsieur, I am not the serveuse...er...waitress. I am sorry for the confusion."

"Pardon me for presuming you were, Mademoiselle. May I be of service to you?"

"Oui, Monsieur, you may. You appear to be the only person here and I do so hate to sit alone. May I impose upon your hospitality?"

I was stunned by her suave and smooth delivery, as well as her beauty. "Pardon me, where are my manners? But of course. Please join me, Mademoiselle. My name is Boris. I have just arrived from the airport in Paris. I could do with some conversation, especially from one so attractive."

"Merci, Monsieur. Elissa. Elissa Duvall," she stated extending her hand. "I, too, have just now arrived from Paris."

I took her extended hand and kissed it lightly. We talked for some time. I told her I was here for the festival. She told me about the village, that she was from Paris, here to enjoy the festival as well. The conversation remained light and fun. I truly enjoyed her company.

"Perhaps you would do me the honor of escorting you to the festival?" I asked presumptuously.

"Oh, I would like that very much, Monsieur!" She shot back with almost no hesitation.

"Boris, please. I would be most appreciative if you would call me Boris."

"Very well, Boris. Then you must call me Elissa."

"I'm glad to have met you, Elissa."

"The same goes for me, Boris. Now if you'll excuse me, I will be turning in for the evening."

"Oh, speaking of turning in, I haven't found any lodging yet. You wouldn't happen to know of a good place to stay, would you?"

"But of course. I am staying at this quaint guesthouse just down the street. I would be happy to show you the way. It's this way."




"You are most kind. Ah, but my auto is that way."

"Oh, no need to fret, it is just across the bridge. You can retrieve your auto after you have checked in. I do hope they have a room available for you."

"As do I. I would like to freshen up after my travels," I said as I followed her down the street.

The guesthouse was indeed quaint. It was perfect. The name on the sign identified it as The Gatehouse. A bit of old world France made available as lodging. It looks to have been a farmhouse with out-buildings. The house and barn are attached, as is the case with many old European farms. The barn has been converted to living space. Back home we would call this a Bed and Breakfast.




I am so glad I had the chance meeting with Elissa. We made arrangements to meet at the marketplace tomorrow morning for some shopping before the festival open ceremonies. She then retreated to her room. I must admit, I was smitten. The main living area was maintained in the original masonry of the building. A large open room with living space and an open kitchen/dining area.




I found the proprietor, Monsieur Jean-Pierre Rousseau of the Bed and Breakfast and inquired about a room. Fortunately, there was a last minute cancellation and a room had become available just a short time ago. He introduced me to his wife, Madame Marie Rousseau, as I thankfully booked the room. I was shown to a very nicely decorated room on the second floor, overlooking the street and looking up the river.

After getting settled, I called Molly to let her know I had arrived, "Hi Molly, I hope I'm not interrupting. I just wanted to let you know that I have arrived. I've acquired a room at The Gatehouse next to the river."

Molly said she was grateful I had a safe flight and had arrived safely. She indicated that she knew where the Gatehouse was located.

It did not dawn on me to acquire accommodations in advance with a festival going on. I am usually much more organized and aware of these things. My thoughts of late have really been wandering. I was very fortunate to have found lodging at all, let alone such a nice place. I realized how tired I was from the travelling. I slipped under the covers and quickly fell asleep.

I woke early, the warmth of the morning sun on the horizon, coming through the window and gently caressing my cheek. I slept well and felt well rested. I rose and looked out upon the street and the river, taking in the spectacular view from the window.




I finished getting ready and went downstairs for some coffee. Madame Rousseau was in the kitchen and offered to make breakfast. I graciously accepted, realizing I was hungry, and would again be at the festival again today. She served up a large meal of eggs, sausage, day old French breach and homemade kumquat jelly.

I thanked Madame Rousseau for the delicious meal and offered to clean up the dishes. She would not hear of it.

"Oh, no, Monsieur. The guests do not help clean the dishes. That is what you pay us for, no?"

"I'm sorry, Madame, I did not mean to offend."

"No offense taken, Monsieur Michaels. You are a very thoughtful man. I like you, Monsieur."

"Thank you, Madame Rousseau. I like you to. Now, if you'll excuse me, I believe I have a date for shopping."

"Have a good time, Monsieur. The festival has brought all kinds of new merchandise to town. I'm sure you shall find something you like."

"Thank you, Madame, Rousseau. I'm sure I shall." Little did she know, I already had.

I departed for the market square. I was 5 minutes early, and Elissa was already waiting. I told her I was sorry for her having to wait. She said she had only just arrived herself. We proceeded to the nearest shop and began looking through their wares. I was searching for the perfect souvenirs to return home with and anything else that caught my eye. We chatted on general topics for the most part. The weather; travel; relationships. It wasn't long before Elissa was becoming more aggressive and flirty. Although I was flattered, I was not ready for a meaningful relationship. However, I could not help but be taken in by her charm.




We spent several hours perusing the shops in the marketplace. All of the merchants have increased their inventories in anticipation of the festival. I picked out a few things to take home as souvenirs and asked that they be delivered to The Gatehouse. The merchants were pleasant and inviting as they dealt with the throngs of festival shoppers. I also purchased some Nectar Festival commemorative t-shirts that were printed by a Ronin2rx of Sunset Valley.

Later in the afternoon, we made our way to the Nectary for the opening ceremonies of the festival. People come from all around to partake of the festivities. The Festival kicks off with produce judging, Local growers bring in samples of their crops for the judging, in hopes that their crop will be chosen by one of the nectar producers for their next round of nectar production. This event spans the first two days of the festival. We spent some time watching the judges examine and taste the various fruits. There were many fruits from other regions, including pomegranates from Egypt and pomelos from China. These were quantities of the rare flame and life fruits as well. We walked around the Nectary for a time getting to know one another better. Although this was Elissa's first visit, I had visited once before, many years ago, when Dad wanted to learn more about nectar making.




I called it a day rather early, as I was still suffering from jet lag. We made arrangements to meet again the next morning at the cafe for coffee. I returned to The Gatehouse and had a little something to eat. I made my apologies to the Rousseaus, retrieved the packages that had been delivered for me, and made my way to my room. I put the packages down in the corner and pulled out my laptop. I checked my email, and took care of a few quick projects Dad had requested. I put the laptop away and got undressed and literally crawled into bed.

I woke early, still not used to the time change, and took in the view from the window once again. My room and neighboring bathroom were perfect, at the opposite end of the building form the Rousseau's on the ground floor, and set apart from the rest of the rooms upstairs. Having the bathroom all to myself at this early hour, I got myself ready for the day. After getting dressed, I made my way downstairs to find Madame Rousseau busily making the morning coffee. I sat at the table as she was pouring a cup for each of us. She brought them to the table, took a seat. She began to ask how my visit was going, and what I thought of their village. I really enjoyed the chat.

After finishing my cup of coffee, I made my way to the marketplace, stopping on the bridge and taking in the breathtaking view of the Eiffel Tower from here. Although more than an hour's drive from here, the massive steel structure could easily be seen on a clear day. I could only imagine what it would look like from here at night, all awash in lights.

I made my way to the cafe, where I found Elissa seated at a table with a cup of coffee. I went inside, bought a cup and returned to the table and joined her. We sipped at our coffee and talked. We talked about our likes and dislikes mostly. We found we didn't have much in common. As we finished our coffee, we made our way to the nectary. We leased a couple scooters for the day and sped away through the open countryside.

Additional nectar presses are placed in the yard and festival-goers are encouraged to try their "feet" at making their own nectar the old-fashioned way. After some goading by Elissa, I decided to give it a go. I was provided a bathing suit, albeit less of a suit than I would choose, and directed to a changing booth. I was asked to choose the fruit or fruits for my nectar. I placed the fruit in the tub and began stomping the fruit with my bare feet.




I slipped and fell once and ended up with seeds all inside my suit. I felt my face flush with embarrassment, but was soon laughing with everyone else. I would find out later that it was a common occurrence among festival goers.




After getting cleaned up and dressed, we walked the grounds some more. We made our way out to the vineyards. I was impressed at how immaculate the fields were kept. We were met by one of the farmhands and he happily gave a tour and explained the growing seasons, the varieties of grapes grown and the processes they use to harvest the crops for nectar making. I was enjoying every second, however, Elissa looked less than thrilled. She eventually excused herself and found a nearby bench in the shade.

As I was walking the fields, my phone began to vibrate in my pocket. I had turned the ringtone off so it did not interrupt anything, if you know what I mean. I reached in into my pocket and retrieved my phone along with a few stray seeds and a caterpillar. I was so busy wiping the seeds off the phone, I didn't notice who it was before I pressed TALK. I caringly placed the caterpillar on a grape leaf as I placed the receiver to my ear and inquired, "Hello?"

The voice on the other end was a familiar one. "Hello Boris! How are you?"

"Hey, Stormy, how's it hanging?"

"Dang, Boris. You need to stop with the innuendo. You make it too easy. So anyway, I just called to let you know I'll be arriving on the eighth."

"You love it and you know it," I teased. "The eighth? That's great."

"What have you been up to since you've been there?" she asked.

"Well, I tried my hand at nectar making today and they gave me something to wear for crushing fruit."

"Oh, my gosh, Boris! Your poor little fruits. I hope they weren't crushed too badly." She said as she burst in to fit of laughter.

Her laugh is so contagious, I couldn't help but join her. "It's all right, I'm standing in the vineyard right now, looking for some suitable replacements."




She bellowed even louder, barely able to speak. She finally managed, "So, do you get to keep this fruit crushing garment?" More laughter. She began laughing so hard, she was snorting.

Laughing uncontrollably myself, I said, "No. They wash them and pass them out to someone else. I wouldn't want to keep them anyway. They were filled with the seed from the crushed fruits." This had her rolling on the floor, unable to make any coherent sounds.

Finally able to catch her breath, "Geez, Boris, will you stop already? I can't take any more."

"You're no fun," I replied, sounding hurt.

"So anyway, I'll see you on the eighth. Until then. Love you."

"Great, let me know if you need a ride from Paris? Call me anytime. See you then. Love you, too."

I hung up but held my phone to my ear trying to compose myself before turning around to face Elissa, hoping she wasn't paying attention. I put my phone back in my pocket and turned around. Luckily she had wandered off to the other end of the building, out of earshot. I realized I had forgotten to ask if Stormy was bringing a guest.

Later that afternoon, I received a call from Axel letting me know that he and Ruby had arrived in the village. I told him I would be having dinner at the restaurant in the market square later with Elissa and asked them to join us. They agreed, and we set a time to allow them to freshen up after their travels.

Elisaa and I were already waiting at the café when Ruby and Axel arrived. I gave Ruby and Axel hugs and introduced them to Elissa. We found an empty table, and Ruby and Elissa sat opposite each other, as did Axel and I. When the serveuse came to take our order, I took the liberty of ordering for all of us.

"Bonjour, Monsieur et Madame, may I take your order, s'il vous plait?"

"Yes, Mademoiselle, we would like the bouillabaisse, please."




"Merci, Monsieur," she said as she retreated inside.

We engaged in light conversation while we waited for our meal to be served. Was it my imagination or was Ruby purposely avoiding conversation with Elissa. There seemed to be some tension in the air. I decided to dismiss it as an awkward first meeting between them. As such, I felt it was left to me to step up the conversation.

Our meal was served in a very timely manner and we began to eat. I was famished, not having eaten since breakfast. I'm sure Ruby and Axel were as hungry. I commented on the delicious soup and was met with agreement around the table. We finished eating and picked up on our conversation from earlier. Ruby's air suggested something was amiss, yet I couldn't place my finger on it. Her vagueness in questions and comments left me flustered. What was she getting at? I must speak with her later.




A short while later Ruby rose from her seat and made their apologies as she motioned for Axel to go along. "We have had a long day of travel and are very tired. I hope you will forgive us, but we need to get some rest. Boris," she curtly said as she nodded at me as if it were some secret code that I should understand.

I politely stood and nodded my ascent, "Good night. I will see you tomorrow, then." And they were off to their hotel. I stayed and chatted with Elissa for a while longer. We both grew tired and decided to turn in ourselves. We strolled hand in hand back to the Guesthouse. As we were crossing the bridge, we stopped to look out at the Eiffel Tower off in the distance, glistening in its lighted glow. I turned to her and she looked at me with a glint in her eye. I drew myself in close and stole a kiss on the night air. It was magical, making my head spin like a child's top. We drifted apart and looked into one another's eyes. The moment froze, whimsical, feeling like hours, instead of the instant that it lasted.




As the moment began to lose its magic, we turned and continued on to the guesthouse. We greeted the Rousseaus and continued up the stairs. At the top of the stairs, we said our good nights, Elissa kissed me lightly on the cheek and was off. I turned and retreated to my room.

I removed my jacket and tossed it on the back of the chair, when, as if on cue, my phone began to ring.
Looking at the caller ID, I saw that it was Ruby. I pressed the Talk button and said, "Hello, Ruby. Is something the matter?"

"As a matter of fact, there is, Boris." She began to speak and her words were precise, cold and cutting, as if she were wielding a RYNO* in this very room. I had never heard Ruby speak in such a manner before. I listened intently as she talked on. Then, as if to make sure I heard what she had said, she asked, "Do you understand what I'm telling you, Boris?"

"Yes, Ruby, I understand. I also know how I feel right now, and I'm sorry for this, but..." and with that I hung up on her. I really didn't like how I was feeling at that very moment. As if kicked in the stomach by an errant jackass. The blow was devastating. What if Ruby is correct? What if she is not? And why didn't Axel stop her from calling? Did he feel the same? I was simply to unnerved to sleep at the moment.

I awoke after a very short restless sleep. I lay in bed for a few minutes trying to make sense of Ruby's call last night. Regardless, I was not about to let it ruin my last day with Elissa. She was leaving for Paris tonight and I might never see her again anyway. There was no harm in spending this one last day with her. I got out of bed and made my way to the bathroom to get ready for the day. I got dressed and made my way downstairs to find some coffee. As if on cue, Madame Rousseau was just pouring a cup as I descended the stairs. She poured a second and I joined her at the table. I always enjoy chatting with her. I thanked her for the coffee, and bid her a good day.

I made my way to the café as soon as I finished the cup of coffee, again thanking Madame Rousseau for the delicious brew. I arrived at the café before Elissa, ordering another cup of heaven's blend while waiting. Elissa sat down a few minutes later. We finished our coffee, then headed off to the Nectary.

Today was the nectar judging. Tables lined with bottles of nectar dotted the grounds. Some of the nectars were many years old. If one could put them all in one cellar, what a collection that would be. I saw Axel and Ruby off in the distance. Although Axel looked in our direction, they made no effort to come talk to us. Ruby must still be sore that I hung up on her. I will have to apologize later. I just want to enjoy this day.




We wandered the grounds checking out all the events. We ran into Molly and her friend Colin, just as we were getting ready to leave the grounds. I hadn't met Colin before. We made quick introductions and then said our apologies. I am hoping I will get another chance to talk to Colin before I leave France.



Elissa and I headed back to the guesthouse. She was returning to Paris this evening and needed to get her things packed. I wanted to say my good-byes. We spent a few hours together. She said she didn't want to leave , but

I phoned for a taxi to take her to Paris. She tried to convince me that wasn't necessary, but I insisted. It was the least I could do after I monopolized her time. We spent a couple more hours together before her taxi arrived. I helped her carry her bags down, Kissed her good-bye and helped her in the taxi. I felt a slight emptiness as I watched the taxi disappear from view. This was not the first time I had felt this way. Although not as strong as before, the feeling was there nonetheless.

I decided to spend a little time answering email and taking care of some business. I had drifted off to sleep and was awakened by a light rap on the door. I stirred, rubbing my eyes, and fumbled around for my glasses which had fallen from my face when I had drifted off.

"Who is it?" I called out.

"It's moi, Monsieur, Madame Rousseau," came the reply.

"Come in, s'il vous plait," trying my utmost to use what little of the French language I knew.

"Pardon, Monsieur. I hope you do not mind, but when you did not come down for hours, I took the liberty of preparing a little something to eat."




"Merci, Madame Rousseau. You are too kind," I said, grateful of her thoughtfulness. "I very much appreciate it."

"It was no trouble, Monsieur. You are not the only one I cook for. My husband also gets hungry, and it is no more effort to make an extra plate."

"You and your husband are wonderful hosts, Madame Rousseau. I shall recommend The Gatehouse to anyone travelling here."

"Monsieur, that is most kind," she said as she placed the tray on my bed table. She then stooped down and retrieved my glasses from the floor where they had fallen. She handed them to me, smiled, and turned to leave, closing the door as she did so. I put the laptop aside, along with my glasses, and ate the delicious meal that my gracious host had thoughtfully prepared for me. I will have to remember to take the tray and dishes downstairs later and wash them. Hopefully I won't get caught.

This is a good time to call Ruby to apologize. I selected her number and waited for the phone to ring. It rang several times, with no answer. I can't really say that I blame her if she purposely didn't answer.

I will send an email and hope for the best. If nothing else, it will be one hell of a meeting this year. I pulled my laptop over, put my glasses back on, opened my email program, clicked New Message, and began to compose:

Dear Sister,

I cannot express how deeply sorry I am for hanging up on you yesterday. I know you only had my best interest at heart when you said all of those things about her. I appreciate your concern and love you all the more for it.

HOWEVER, [yes, here it comes] I do think that I can make sound decisions on my own. I can tell when someone is being dishonest with me.

I would ask that, in the future, you give me some credit before verbally assaulting my choice of companions.

Love always,
Boris

I clicked Send and felt the uneasiness I was feeling slip away. I thought it best not to mention her name in the message. I have a few days to do some exploring before everyone arrives. Stormy arrives on the eighth. Maybe we can get some fishing in before Tony arrives on the tenth.

The remainder of my stay in France was taken up by our annual get together. We had agreed to come to France at Molly's request. We had a great time catching up, as always.

A week after returning from France, Mao and I packed up the car, grabbed Ning and left for Riverview for the upcoming holiday. The drive proved to be very relaxing. Passing through the countryside is both calming and exhilarating. Ning enjoyed the ride in his new car seat. The car seat was fraught with activities for the toddler, but he had no interest in them, instead, looking out the car window at the sights.

It was near lunchtime when we arrived at the house. We began to unpack the car and carry the bags into the house. I retrieved Ning from the car seat and carried him into the house. Upon entering, my nose was met with the most wondrous smell from the kitchen. I placed Ning on the floor in the living room and made my way to the kitchen. Denis was standing over the stove tending to a frying pan.




"I should have known it was you," I said, startling him as I entered the room.

"Damn, Boris!" he almost screamed. "Hey, what timing. It'll be a few more minutes. By the time you have your bags in the house, I will have lunch ready," he said, tasting his concoction from the spoon he stirred it with.

"Smells good. I'm famished. We'll be right in."

"Great, I'll have the table set and the food waiting."

I helped Mao bring in the rest of the bags and placed them in the foyer until after lunch. Mao went to the living room to get Ning, brought him to the kitchen and placed him in the high chair. Denis had a bowl of food waiting for Ning, as well.




"He sure has grown," Denis said as he placed the bowl on the tray in front of Ning. "Enjoy your lunch and let me know if you need anything else."

"Why don't you grab a bowl and join us," I said, "There's plenty and you have to eat too."

"Nah, I shouldn't eat with you. I'm just the hired help," he said with a wink.

"Knock it off. Grab a plate and join us."

We enjoyed our meal and caught up on the local news with Denis. Afterwards, we got Ning put down for his nap and proceeded to unpack our bags and get settled in. Our plans were to spend three weeks here in Riverview this year. I needed some extra down time to assess recent events and make some decisions. I had no real plans, no family coming, no friends visiting. Just Mao, Ning and myself.




This vacation was much more fun for us and Ning as we were able to take him places and he was able to enjoy them. I could see that I was going to have my hands full. He can be somewhat trying after having been left with his grandfathers for a while. I'm surprised they haven't taught him how to pick locks; or have they? He's my handful, though and I wouldn't trade him for anything in the world.

I spent several days fishing in the pond in the back yard and thinking. I used this time to reflect on recent events. The woman I met in France - Elissa Duvall - is she really a gold digger as Ruby says. I believe Ruby and Axel saw what they say they saw, but was that actually what was happening? Was Elissa really just after a rich man? She seemed so sincere. So honest. So caring. Can she really be as shallow and conniving as Ruby makes her out to be? I really liked her. Should it matter to me one way or the other?

On the other hand, I can't afford to have a "loose cannon" around. Dad would have her drawn and quartered, followed by me. I am confused and I don't like the feel of it. What should I do?

As I stand here and fish, I find myself thinking of my past. I wonder how things might have been had I not met Stormy, Molly, Ruby and Tony; or Jing or Mao; George and Beau; Elissa; even Mrs. Rousseau. All of these people have contributed to my past, impacted my present and shaped my future. It is nearly impossible to imagine how one's life could have been, had we not met the people or had the experiences we did.

It was also a good reason to get Ning outside for some fresh air. He would play contentedly with his toys for hours. I would be so caught up in my thoughts, that I would forget he needed to eat or be changed, although I was aware of his presence. Mao would come to the rescue as always. He never seemed to miss a beat with Ning.




No matter what he was doing, or where he's at, Mao knows when Ning needs to be taken care of. I swear he has an internal alarm that goes off when Ning is in need of something. I don't know how he can keep that garden looking so good and take care of Ning, among other things. I usually help him in the garden, but this trip...I don't know...I just can't seem to get myself motivated to do anything useful or helpful. I have so many things to ponder; to think about, yet I find I cannot. I somehow always end up with a fishing rod in my hand at the pond, wishing Stormy were here by my side to keep me company. Stormy's got something with this fishing business. It is a great way to escape the rigors of everyday living.




I will have to make an effort to assist in the garden. Although Mao says he doesn't mind and loves working in the garden, I feel guilty not helping with such a large plot. Mao suggested meditation on several occasions, however, I am unable to focus my thoughts.

About two weeks into our stay, we experienced a power outage. I found this intriguing, as it was the first time it has happened in all my visits to Riverview. I thought they had such a stable power grid. I was sitting in the library at the time and turned to peer out the window. The other houses in the neighborhood all had lights. I know most of the farms have emergency generators, but this particular area was mostly residential homes.

I decided to check the fuse box for blown fuses. I made my way from the library into the main hall and headed toward the back of the house. As I entered the exercise room at the back of the house, I noticed some movement outside near the pond.




Just as I reached the window, I noticed two figures running toward the river. It was a clear night with a near full moon, making it quite bright outside. However, I could not make them out too well at this distance. I could not determine their genders, just that they both wore black, and one of them had light colored hair, most probably blond.

Mao entered the room carrying Ning. "Who do you suppose they are, Boris?" he asked, surprisingly calm, as he, too, noticed the figures running to the river.




"I don't know, Mao, but I'm sure Dad can find out soon enough. Are you and Ning alright?"

"Yes, we're fine, thank you. How about you?"

"Fine. A little perturbed, but fine. Thanks for asking," I said with a smile he probably couldn't see in the darkness. I was surprised at how calm I was. I am unusually excitable in these instances.

"Do you think they had something to do with the power failure?"

"I'm sure they had everything to do with it."

I took out my phone and entered my father's number. He answered on the second ring. I was surprised, as I expected to go to his voice mail and have to leave a message. I related the events of the night to him. He insisted we get to the basement. He would contact George Dean and ask him to send someone around to check out the grounds.




After the call had ended, I led Mao and Ning to the basement. Luckily my father had the forethought to have emergency lighting install while I was away. Mao also informed me that there was an underground bunker added, as well as egress to the river, should the need arise. I will have to have a talk with Dad about making changes without my knowledge. I am already used to the fact that he does not "require" my input.

A short time later, Beau came by with another police officer to check up on us and have a look around the grounds. As was thought, a search in the dark was fruitless. They made sure we were alright and stayed in the neighborhood, until power was restored to the house.

Beau stopped by one last time that night after the power had been restored, to ensure our safety, double-checking all of the alarms. I will have to make it a point to ask her what's been happening between them. I think he would be very good for Stormy.

I woke early the next morning, despite having gotten to bed so late. As I made my way outside to retrieve the paper, I was surprised to see a strange man in a maid's inform on my front stoop. The man almost looked like an albino. Very white skin tone, blonde hair, but his eyes, were the color of onyx. He had a rather disturbing look to him. Something didn't feel right just from looking at him.




"May I help you?" I inquired.

"Good morning, sir. Are you Mr. Michaels?" he asked.

"Yes, I'm Boris Michaels. Again, may I be of assistance?"

"I am your new maid, Jermey. Jermey Begay," he said.

"New maid? I'm sorry, are you sure you have the right house?" I questioned. Continuing, " I already have a maid in employ."

"Denis Slater, yes? I'm sorry, he has tendered his resignation, and will no longer be of service to you. I have been assigned in his stead."

"Resignation?" I asked startled. This was most peculiar. Gaining my composure, "I see. This is most inconvenient. Forgive me, but I will not be in need of your services. We will be leaving town in the next day or two. Also, I wish to receive formal written notification from your employer. I will contact them immediately and make an inquiry. I do hope you understand."

"Perfectly, Mr. Micheals. I look forward to serving you in the future, sir."




He walked to his car and drove off without a second look back. He seemed like a nice enough fellow, but it was just too odd after the events of last night. I retrieved the paper and went inside. I called Denis to get the scoop from him. As I feared, no answer. I then called Dad again and informed him of these latest events, and as usual, he said he would take care of it. He was going to have someone come to Riverview to investigate and make inquiries. This time I was more than happy to have him intervene.

I poured a cup of coffee and sat to read the paper. Mao came in with a cup of tea and sat across from me.

"Boris, who was that man in the maid's uniform? I don't care for him. He had contempt in his eyes."

"He said he was our new maid."

"But Denis is the maid. Has something happened to Denis?"

"I believe so. There was no answer at his apartment, and we both know he did not work directly for the maid service. Dad is sending someone to Riverview to take care of it. I think it's time we headed back home. We'll leave tomorrow morning."

I called the maid service and made some inquiries. As I had feared, this Begay was not employed by them. They seemed to be just as surprised at Denis' disappearance as we were. The owner was generous in offering a replacement in the interim, until Denis could be replaced by my father. I thanked him for his concern and declined his offer, stating we were leaving in the morning and it wouldn't be necessary.

We finish up a few chores and then set about packing up to go home in the morning. We needed to take care of everything this time, as Denis wasn't going to be coming in to clean it up after us, as he did in the past couple years. The recent events had me unnerved. I began to jump at everything. We had everything packed that could be done ahead of time and set it all in the foyer. It was late, so we locked up and went to bed.

After a restless night, I rose to a brightly lit room as the early morning sun crept over the rooftop and found its way into the window. I was careful not to wake Ning. We had moved the crib into my room after the events of the other night. I slipped into the shower, washed, and got dressed. I quietly exited the room and made my way downstairs. I wrote a note for the mailman, asking to have all mail sent to Crescent Bay. I walked out to place the note in the mailbox and retrieve the morning paper, when a farmer strode up the walk. The odiferous clod could have at least put on some clean overalls and boots, or at least cleaned the manure off of these a bit, I thought to myself.




"I'd like to know what happened over the last couple days."

Recognizing him, I began to relate the events of the last couple days, telling him everything.

"I see. Is there anything else I need to know? Which way did this Begay, did you say, head off to?"

"I've told you everything. Jermey Begay. As I said, he got in his car and headed towards town. Up past the hatchery."

"Thanks, I'll take it from here. I think it would be better if you went back to Crescent Bay as soon as possible," he said with concern in his voice, as he leaned in and hugged me.




"You be careful, Boris," he whispered, "Take good care of Ning and Mao."

"I will Dad," I said with a crack in my voice. This is the first time in more years than I care to recount that he has shown any display of affection or caring towards anyone in public. He is usually this hard-assed grump that finds fault with everything and everyone.

As he turned and began to walk toward the back of the house, I heard a very faint "I love you," without so much as turning around. I don't think I could have felt any more emotional than that moment. I was stunned. That is the last thing I ever thought I would hear from him. This will be my little reverie, however, as I know he would only deny having said it. I was suddenly the happiest man alive.

Mao and I packed the car, secured Ning, and headed home. We rode in silence. I could not help but have this stupid grin from ear to ear. It was so reassuring to know that I had Dad's love and support, even though he was loathe to display it openly. It was all I thought about on the drive home.

Things were much calmer at home. They actually slowed to a snail's pace at times, of which I was thankful, but at the same time, secretly wished for more excitement. I spent much more time with Ning, teaching him to talk and starting to potty train. It was probably too early, but I had time now to spend with him. Lord only knows how mothers do this childrearing thing. It is a lot of hard work. If it's instinct, every person should have it, with the increasing number of single-parent households, not to mention those crazy enough to have many children. I should feel sorry for Ruby and Axel having to do this three times over. But the truth is, I can't help but chuckle, thinking of the havoc that is wreaked upon their house with three clamoring toddlers, as I'm sure they are just as loud and boisterous as Ruby and Axel.

I started to become antsy as time was passing and still no word of Denis. Dad returned from Riverview, and I couldn't wait to find out was he had learned. I followed them down to the computer room where I did most of my work. They were talking as I walked in, but made no effort to hide their conversation from me.




"...and that is all we could find out about him before he took his own life. And I can't wait for my hair to grow out."

"I like the short hair," Achilles said with a wink. "Sounds like there is more to this than we originally thought. Now..."

"What is it, Dad? " I asked, butting in to the conversation. "Is this about that pasty-faced maid that lied to me about taking Denis' place?"

"Hello Boris." He smiled one of his rare smiles and continued, "Glad to see you made it home without any trouble. Yes, it is. He was going by the alias Jermey Begay. He was in fact a Khadra operative. We have not been able to ascertain his real name, yet. While holding him during questioning, he somehow managed to take a cyanide capsule, taking his own life. We had done a thorough enough search of his body, but missed the tiny capsule. There's no telling where he had it hidden."

"Crap!" I interjected. "What now? Where do we go from here?"

"We continue on with the investigation, and you tend to your family. This does not concern you anymore. You have a child that needs his father. Please leave this to us and tend to Ning."

I became livid. "Oh, so you don't have a child that needs his fathers, as well? You can't shut me out. Denis is a very dear friend. I want to help. I need to help."

"Boris, we will continue looking into it. I want you to stay put here. You may well have been the target. I do not want you out there looking for Denis," Achilles stated sternly.

"But Dad, I am not going to sit by and do nothing while a friend is God knows where. we don't even know if he is still alive."

"We are doing the best that we can. We have some of the best equipment and personnel on it. I think if he were dead, we would have found out by now. We must continue on the assumption that he is still alive. Do you honestly think you can make a difference? Find him faster?"

"Well, no, but I don't want to just sit here and wonder, either."

"Boris, you have to think of Ning. If anything were to happen to you, he will have lost both of his parents. Isn't that enough to make you think twice?"

Of course he was right. "Of course you're right. Please keep me informed, though! Has George Dean turned up anything?"

"Nothing yet, I'm afraid. Although, his last report was a few days ago, we've heard nothing since."

"Would you have any objections to my poking around online? I can at least feel useful and spend time with Ning. I just don't want to sit here."

"I can't blame you. I suppose it couldn't hurt, if you're careful. You know better than anyone what to watch for while online. Please don't get careless."

"I promise, Dad. I will be careful. I feel much better now, thank you. I think I'll give Stormy a call and see if she's free for lunch. Care to tag along?" I asked with a raised eyebrow.

"That sounds like a good idea. Keep it public. I'm afraid I have a meeting this afternoon. I'll take a rain check, though," Achilles smiled, knowing full well that the raised eyebrow meant that I had something up my sleeve. He would trust in his son not to do something stupid.

I headed back to the study. All of the rooms in the house have become bland and lifeless. Devoid of color and decoration, recent events have prompted the removal of any valuable items. He retrieved his cell phone and entered phone number. The phone rang a few times before it was answered.




"Hello, Boris, how are you doing?" Stormy asked.

"Hi Stormy. I'm doing good. How about you?"

"I'm Good, Boris. What's up?" Stormy asked, cutting to the chase.

"I was wondering if you're free for lunch. I hadn't seen you in a while."

"Cut the crap, Boris! I can tell when you're plotting something. If I have to wait for lunch to hear about it, I'm in. Bistro at 11:30 good?"

"I can't seem to get anything past you. Bistro at 11:30 works for me. See you there. Bring your appetite with you. my treat!"

I went in search of Mao. I thought I would find him in the garden, but not today. He was immersed in meditation in the dojo out back. He stopped as he sensed my approach. How does he do that, I wondered. I was not close enough for him to hear my footsteps, yet he sensed my approach. That would be a handy gift to have sometimes.




"Hello Boris. What can I do for you?" he asked.

"Hi Mao. I am going to have lunch with Stormy and wondered if you might keep an eye on Ning."

"You know you do not have to ask. It is my pleasure to spend time with him." He continued, "Boris, I know you are worried about Denis, as am I. But you must trust that your fathers are doing all they can to find him. Please do not put yourself in danger."

"Thank you, Mao. You are starting to sound like my father every day. That's not necessarily a bad thing, either. I am aware of my responsibilities here. Thank you for your concern. You are such a good brother and uncle. It is a privilege to call you friend."

"The privilege is all mine, Boris. You have given me a roof over my head and food in my stomach; a place to call home. It is an honor to watch over my sister's son; my nephew. I am most grateful to you and your father."

"Thank you again, Mao. I shouldn't be gone too long."

I set Ning down on the mat next to Mao and went upstairs. I changed my shirt, grabbed my wallet and car keys and headed for the garage. Dad stopped me at the bottom of the stairs.




"Are you heading to lunch with Stormy?"

"Yes, we're having lunch at the Bistro. The offer to join us is still on the table."

"Oh, no, thanks. You go enjoy yourself. Be careful, Boris."

"Thanks, Dad. On both counts," I said as a grin crept across my face. Dad wasn't usually so open with caring remarks. I liked to see this side of him every once in a while.

I arrived at the bistro shortly after Stormy. She had already acquired a table. I walked over, gave her a peck on the cheek, and took the seat next her. We chatted for a while about family, friends, the weather, and other generalities. Of course I was curious about her and Beau. I'll have to make sure I ask her about him before I leave. The waiter appeared and we gave him our orders.

"So, Boris, when are you going to tell me what this is all about?"

Now's as good a time as any, I thought. "I ran in to Beau when I was in Riverview and I wanted to ask how things were going between you two. Have you gotten together?"

"Not that it's any of your business, and it's not... Hey, wait a minute, you did not invite me to lunch like this to talk about my love life. What gives, Boris?"

"Well, while Mao, Ning and I were in Riverview..." I related the events that had taken place from the power outage to this moment to Stormy.

"Dang, Boris, what have you gotten yourself into? Why do you need to talk to me?"

"Dad "suggests" I keep a low profile. He does not want me returning to Riverview for now. I was wondering if you might be heading to Riverview in the near future. And if so, if you wouldn't mind checking with George Dean, to ascertain if they've learned anything about that night or Denis' disappearance. Would you be willing to do this for me? I completely understand if you'd rather not."

"OK, but why do you need me to do this?"

"Dad says he hasn't heard for George Dean in some time, and I'm curious to know if they've found anything out. I also know that George and Beau have taken quite a liking to you. I'm sure if anyone could find out, it would be you."

"Hmmm. Well, I think I could make time for a visit to Riverview. I have been wanting to get back to the hatchery to do some more fishing. I'll have to check with Dad, to make sure Sunny is looked after, though."

We ordered lunch and ate, chatting about our families and friends. I returned home and immediately continued my search online. Although I ran into many firewalls and dead ends, I did manage to hack a few systems and retrieve tidbits of information we already had. This was beginning to feel pointless.

Stormy returned from Riverview and we once again arranged to meet for lunch. This time, Dad did join us. She came back empty handed, as I feared. Everything she was able to find out, was old news. Things were not looking good at all.

Early on in September, I came across something interesting. While hacking one of the computers of the Al-Shang-Sim Criminal Network, I found mention of Uncle Hector's friend in China, Bao Louie, and Denis in the same communiqué. There was nothing more than vague references to the two of them, but this is more information than we've seen previously. Both of my fathers were tied up with other business and couldn't be reached. I decided to check this out myself. I packed a few things and left for China, leaving a message for Mao to look after Ning until I returned.

Shortly after I had left, Mao found the message and quickly relayed it to my dad. Dad called Axel, and told him to get to the house right away. That it was urgent.




"Axel, I'm glad you got here so quickly. We have a problem."

"What is it, Dad? What's so urgent?" Axel asked in complete bewilderment.

"It's your brother. He took off to China looking for information on Denis after we specifically told him to stay put. I need you to go after him and bring him back. And don't tell Ruby why you're going. She'll get some crazy idea to recruit her friends and follow or some such nonsense. We don't need them gallivanting all over the planet and getting in trouble."

"Understood. I'll leave right away."

"Be discreet, and don't fail me, boy. Use what you've been taught."

"I won't Dad. Have I ever failed you before?" Axel asked in all sincerity.

"Just go before this turns ugly. Hurry and bring him back. Now go!"

Meanwhile, my plane was landing in Beijing. Once I had deplaned, I quickly made my way to customs. I was through in short order, not having packed much of anything. I hired a taxi and made my way to Shang SimLa. I stopped by the house for a quick shower and a change of clothes. Then I was off to find Bao Louie.

A few hours later, Axel finally caught up to me. He came running over, grabbed my shoulder, spun me around, and said "What the hell are you thinking, Boris?"

"I'm thinking I'm going to find my friend. I suggest you let me go and be on your way."

"Oh, I'm going, alright, and you're coming with me. We are going back together and we're going back now!"

"Well, I think you've got bigger problems than trying to take me back. Looks like you've been followed," I said, pointing over his shoulder.




"What do you mean?" Axel asked, turning to spy Ruby running down the street towards us.

"Damn it, Boris. What do I do now?"

"Deal with it, Axel. I'm not taking the heat for this one."

"I hate you, you know that? You always get Dad riled and he takes it out on me. Why doesn't he ever talk to you like that? Now I'll be disowned if they ever find out Ruby followed me. What the hell am I supposed to do now?"

"News flash, Axel. He talks to everyone that way. Not just you. I suggest you tuck her away safely for now. I'll meet you back at my house in an hour and we'll leave. You're only fooling yourself if you don't think they already know she's here, after all, you only live down the street. I'll help you think of somehow to get Ruby back home unnoticed. It's not going to be easy, though. And I know you don't hate me." Since I am going to be in trouble for just coming here, I might as well help Axel.

Axel patted my shoulder like a doting brother, "Thanks, man! I owe you for this." He then turned and ran to Ruby and together, they retreated to a safe place to await for my return.

"Yes, you do," I said to myself as I watched them for a moment. I then made my was to the shops and located Bao Louie. We found a quiet out of the way table where we could talk in private. Unfortunately he could not tell me anything new. I thanked him for his time and headed back to meet with Axel and Ruby.

Later that day, I was bound for home with Axel. Having found out next to nothing, it's just as well that I return home. I am going to catch hell for going off on my own, by it will be nothing compared to Axel, if they ever find out Ruby abandoned her kids and followed him. She wore a scarf over her head and sat away from us, with the hopes that she wasn't discovered. I'm sure our dads knew, but they never said anything.

After several more weeks of hacking computers and finding nothing, Dad sought me out and suggested I take a trip to France. I couldn't believe he wanted me to go on vacation now, in early October. I had not enrolled in classes for this semester, but still, what could his reason be? I quickly changed my tune when he said he wanted me to meet with a courier who has information that may be of interest to us. Sending me and traveling under the guise of a vacation would make it less noticeable.

I flew in to Paris, where I was supposed to meet the courier in a couple days time. Since I had a couple days to wait, I decided to drive out to see Molly and Colin if they had some free time. Molly's emails indicated that she was very busy with the planning of Amelie and Sean's wedding. When the time comes, I'll know of an experienced wedding planner.

I had the feeling I was being followed. I stopped at the Gatehouse and was lucky enough to get a room. Madame Rousseau was so excited to see me, she ran in and put a pot of coffee on. While I was waiting for the coffee, I placed a call to Molly. Getting her voice mail, I left a message, asking if she would be available for lunch the next day.

Molly returned my call a few hours later, saying she would be glad to meet for lunch. We made the arrangements and said good night. I called my father and told him about the feeling of being followed. He told me to return home immediately and he would get someone else to make the meeting. I told him that wouldn't be necessary; that I would think of something.




Molly and I met for lunch. We chatted about family and friends, as we all always do; you know, catching up on things. She filled me in on all the wedding plans she was left to make and asked how long I would be in France. I had no real plans on the length of my stay, and at this, Molly took the liberty of inviting me to Sean and Amelie's wedding. I was supposed to make it seem like a vacation, so I was pretty open, and took her up on the offer.

I don't know what possessed me to ask, the words spilling from my mouth before I realized I had said anything: "Molly, I'm in somewhat of a bind, and was wondering if you could help me out. I'm here to meet with a courier in Paris to retrieve some information. Information my father may find useful in locating a missing 'employee' of his. I'm afraid, however, that I am being followed, and cannot make the rendezvous myself."

"Information regarding..." Molly asked quizzically.

Once again I told of the events since that night in Riverview. After I had recanted the tale, I stated, half jokingly, "It would be great if you could do this for me."

After several bites of food and a few moments of thought, Molly surprised me and said she would do it for me. I told her I could not put her in such a position, but she said she would be alright. I gave her the operatives name, Matthew Thibodeau , and the location of the meeting.

After her return from Paris, Molly and I got together for breakfast. She had placed the small disc in a book and passed the book to me, saying she thought I would like it, as it was a good read. If I had to venture a guess, I would have to say she was having the time of her life with this cloak and dagger stuff. Perhaps I'll put in a word with Dad, in the event he needs another overseas operative.

While I was still in France, I received word from Dad that I should go directly to Egypt from here. Dad would meet me there. After I said my good-byes to Molly, I boarded a train to the Mediterranean coast. I caught a flight from Marseilles to Cairo. Traveling was not my cup of tea, although I did enjoy taking the changing modes of transportation.

In Cairo, I had some time before Dad arrived, so I got in some shopping and bought some new clothes. I didn't think I would be near a laundry any time soon, and didn't want to get caught short, if you know what I mean.

I acquired rail passage on a train headed for Al Simhara. It was a business coach, larger than the norm, with one large living compartment on one end and a dining room on the other. The two sleeping cabins in the living compartment could sleep four. It wasn't too long before Dad arrived, and to my surprise had Mao and Ning in tow!




Lunch was going to be served shortly after we pulled out of the station. The conductor was making his final calls as they were announced over the PA system in the station proper. I took Ning to our compartment and got him settled. Mao and Dad took care of the bags as they were delivered. We got settled just as the train pulled from the station. The steel serpent jerked forward. Then jerked again. Then again once more, before it finally began moving at a steady pace of acceleration along the platform and out of the station.

As train began moving as a steady clip on the almost invisible steel rails, it was announced that lunch would be served in a few minutes. We took the time to get cleaned up before we made our way to the dining car. I got Ning changed and cleaned up and we headed out to lunch.

We entered the dining car and took the table nearest the kitchen. We had made a last minute request for a highchair, and found that there wasn't one on the train. I was amazed at the expediency of the service in getting one on board before we left the station.

As we seated ourselves, we placed our orders for lunch. I got Ning all strapped in before taking my seat.

"Excuse me, Achilles?"




"Damn, man, I haven't seen you in years. What have you been up to?"

"I'm still banging away at the keys to put food on the table. You?"

"As if you didn't know. You've got your nose into everyone's business. What brings you to Egypt?"

"I'm here with my son. A little work, a little vacation! How about you?"

"Don't try to snowball me. You know exactly what I'm doing here, or you wouldn't have interrupted my meal. You might as well join us. Where're you headed?"

"Thanks, don't mind if I do. I'm on my way back to Al Simhara. My son is waiting for me there."

"Did you have business in Cairo? Oh, where are my manners?"

"You never had any, that I recall. No business in Cairo. Not exactly, anyway."

"Ha ha! Ever the jokester. This is my son, Boris, and my grandson, Ning, and a close family friend, Mao. Boris, Mao, this is Chase Avery. Chase is a journalist, perhaps you've heard of him.




"Yes, I have. His name comes up quite frequently on the web when searching criminal sources."

"Imagine that," Chase said matter-of-factly. "Is this one of your two boys? I haven't seen them in years. You were very small the last time I saw you"

" So you came all this way to talk to me? To what do I owe this visit? I know you, remember?"

"You're right, Achilles. You know me too well. That's why I stopped covering your activities. I valued our friendship too much. Anyway, the reason I'm here, is to warn you. I know, as well as every criminal organization with any clout, that you are here to retrieve one of your operatives."

"Perhaps I'm getting too soft and lax in my old age. I'm not surprised they were able to follow our moves."

"Don't be so flippant! They only know half of what your organization is doing and have no knowledge of what, or who, you are actually looking for. I've tossed them an errant bone or two along the way as well."

"Thanks, Chase. I appreciate that."

"The pleasure was all mine. Anyway, I want you to know that you are on the right path, however, you will not be able to just waltz in there and retrieve your man. You would do well to obtain some professional assistance. The smaller the force, the better the odds."

"Thanks, Chase. I owe you. We'll find a way."

"You'll always owe me. You can start your payback by picking up my meal. And I know you will find a way, with Boris' help."

" Hmm, I think I know just what you mean, friend. Boris can take care of it. I'm sure he has a favor he can collect on. I'll not only pick up your meal, but your fare for the trip, as well."

Our meal arrived and we ate; Dad and Chase talking of old times and families. We finished our lunch, Mao and I collected Ning and made our way back to our compartment. Picking up on Dad's inference, I retrieved my laptop and my portable encryption card, and began to compose a message to the General who had acquired my services for the Black Tongue operation:




General,

I am in need of your assistance and would like to obtain your services...

I recounted the events involving the Khadra over the last couple years, up to, and including, the disappearance of Denis. I continued:

If you choose to help us, as I hope you will, we will make all of our intelligence available to you and your team, although it may not be anything you are not already aware of.

Also, I would like to call on a favor and request Tony Stark for this operation.

I look forward to hearing from you.

Sincerely,
Boris Michaels

I looked over the extensive message once more, then clicked the ENCRYPT option. Once the message was successfully encrypted, I changed out the portable encryption card for my satellite connection card and sent the message.

All that was left to do now, was wait. We decided to stay in Egypt a couple more days before heading home. We sought out Chase to spend some time with him and his son, but we had no luck. with nothing left to keep up in Egypt, we headed for home. I spent the rest of October helping Mao with the garden, but mostly moping around, waiting for some word from the military.

This year, I decided to spend my birthday by myself, camping at a nearby lake. Can you imagine, me, Boris Michaels, out in the wilderness? I hope Stormy doesn't catch wind of this. She'll be wanting me to go camping and fishing with her all the time.


Molly

I pinched the bridge of my nose and counted to myself so I didn't yell across the lawn at Amelie and Sean. I could hear Colin, Deidree and Kevin, the rest of the wedding party, shuffling anxiously under the warm summer sun. I'd been trying to get these shots for an hour because Sean couldn't resist the urge to do something inappropriate (at least for wedding pictures) and Amelie would then dissolve into a fit of giggles. Everyone was dressed in their wedding attire as well so I could get some early shots of the party (because Amelie had insisted that their may not be time on the day of the wedding). Deidree and I both had very carefully hidden pins poking into us since the dresses weren't entirely done being altered and stitched.

I wanted to strangle Amelie. Then I wanted to smack Sean for good measure. "Never again." I muttered. I felt Colin's hands on my waist before I could snap. He didn't have to say anything at all, just hold me. "Thanks." I whispered. I plastered a fake smile on my face and looked over at Sean and Amelie. "Let's try this again shall we, Sean...please try to resist the temptation." I said with a fake laugh. He gave me a boyish grin and Amelie giggled again. I started taking pictures and after taking about fifty, I knew Sean was about to ruin it all so I hoped I'd gotten the one.




"Okay, wedding party! This one will be a little tricky. I'm going to set everything up and then have Frankin here push the button so I can get in the picture as well. May take a little longer if we need to reshoot too often. So everyone try to look perfect the first time." I gave them another fake laugh.

It wasn't perfect the first time or the second time or the tenth time. And each time I stepped out of the picture to see if it was good enough, to readjust the camera and to restage anyone who had moved. Sean would be Sean and Amelie would be giggling. Personally I liked those shots, they felt natural but Amelie wanted elegant. Finally it was all done, I won't say the shots were perfect but I hoped that the wedding would give a chance for a redo. Besides, there would be a second photographer at the wedding since I'd be a little busy that day.

Once we got back to Colin's house, he helped me take off the dress without disturbing the pins. The seamstress hadn't wanted to let the dresses out her sight at all and had given us strict instructions. Amelie had insisted on the photoshoot though so the seamstress wasn't given much choice. I laid the dress aside carefully and slumped onto the bed with a heavy sigh. "Is it October yet?" I asked.

"Not yet." Colin said. He grinned and laid on the bed and then motioned for me to lay back with him. As I did, he wrapped his arm around me and started kissing my shoulder and neck. The tension from Amelie quickly disappeared as I lay in his arms.

Classes began again in September and between projects, the wedding and helping Deidree pack - I felt like I was being run in a hundred different directions at once. I tried to spend as much time at home with Deidree before she left but after a long trip to Paris for the wedding, I usually wound up at Colin's house because all I wanted was his loving arms around me as we snuggled in to watch a movie.

One month, twelve boxes for Deidree, thirteen trips to Paris for Amelie and about a thousand headaches later, October finally dawned. A week before the wedding, I missed a call from Boris while I was in class. I was surprised to hear he was in town and quickly called him back to set up lunch. We met in the town square and grabbed some food from the little cafe. We found a table away from anyone else and chit chatted while we ate. I was curious what business had brought Boris to France with no notice but I didn't ask. "How's Ning?" I asked after we'd cleared our plates and returned with cups of coffee and some dessert.

"Oh he's fine, growing constantly." Boris replied. I could tell his mind was somewhere else and was about to say something about it when his gaze returned to me as if struck by a sudden notion. "Molly, I'm in somewhat of a bind, and was wondering if you could help me out. I'm here to meet with a courier in Paris to retrieve some information. Information my father may find useful in locating a missing 'employee' of his. I'm afraid, however, that I am being followed, and cannot make the rendezvous myself."




"Information regarding..." I asked considering what he'd just said.

Boris recounted for me the events in Riverview and all that had happened since then. I was immediately concerned for his friend Denis, having met him briefly the one time I'd visited Boris's house in Riverview. I was thinking about everything Boris had told me when he interrupted my thoughts. "It would be great if you could do this for me." I could tell from the faint chuckle and smile that he was trying to make a joke of it.

We sat in silence for a few, each mulling things over I suspect. I took a bit from my pie; when I finished, I nodded. "I'll do it." I said.

"No Molly, I can't put you in such a position. I can take care of it." Boris objected.

"It's fine, just meet and get the information right? How hard can it be?" I said with a chuckle. "You said Paris right? I'm there several times a week lately anyway."

Boris looked at me curiously. "Why?"

"Amelie." I rolled my eyes and took a drink from my coffee. "She's gone off the deep end with the wedding and since Deidree is a total flake, everything has pretty much fallen on me to plan." I said. "Ooh!" I said suddenly struck with an idea. "The wedding is this weekend. Will you still be in town? Or can you stay a couple days?"

"I don't know, probably." Boris said. "Why?"

"I want you to come of course! I may need about a hundred people between me and Amelie that day - who knows what changes she'll want to make the hour before." I said hoping I was only joking.

"I didn't bring anything to wear to a wedding Molly. Besides I wasn't invited." Boris protested.

"Oh I'll find you something in Paris and you were just invited. Trust me, there will be plenty of food and the wedding is at the Nectary so endless supply of beverages - which we all might need." I said with a laugh. "Please Boris?" I gave him my sweetest, pleading looking.

"Okay okay" he said holding his hands up in defeat. "I can't argue with that look."

I grinned. "Perfect! Now give me the details about this meeting." I said glancing around the square. Were Boris's followers here, could they hear us? I tried to hide my shudder so Boris wouldn't second guess this decision. He gave me the details and I nodded. "That's near the bridal shop I have to meet Amelie at anyway. Works out perfectly. We have the final dress fitting and all."

"Thanks Molly, I really appreciate this." Boris said. I wondered what he was thinking as he got that distant look on his face again.

I reached out and touched his hand. "That's what friends are for. Going to weddings, getting drunk, international espionage...." I laughed and was pleased to see him laugh as well.

The day of the meeting and the dress fitting, I admit I was a little frantic. This was no big deal - really it wasn't - and yet it had an infectious air of danger to it. "Molly..." Colin said as a rejected shirt hit him in the face. He removed it and walked over to me. "Why are throwing all your clothes on the floor?" he held out the shirt. "And at my face."

I looked around the room and blushed scarlet. "Er, just trying to decide what to wear." I said.

"To a dress fitting....with Amelie and Deidree. It's that challenging?" he asked narrowing his eyes. "What are you up to?"

"I'm doing a favor for Boris." I said determined not to say anything more but he narrowed his eyes further and simply looked at me questioningly. "He needed someone to meet this guy and get some information and get it back to him. That's all!" I said trying to make it seem like no big deal. It wasn't...really.

"Mhm." Colin said simply as he went to his closet and pulled out his jacket. "I'm going with you." he pulled on the jacket and then picked up one of my shirts. "And wear that one. I like the green" he said handing it to me. Before I could protest he walked out of the room. Secretly I was happy he was coming and couldn't have argued.

As I walked down the narrow street toward the meeting place, I found myself glancing at my watch several times. Eventually Colin slipped his hand into mine and I smiled at him gratefully. We turned the final corned and saw a man standing exactly where the courier was supposed to be standing. Colin looked over the man once and then I saw him glancing around the line of shop fronts.




"Matthew?" I asked trying to squash the small bit of nervousness from my voice. 'He's just a messenger Molly!' I reminded myself. The man merely nodded and held out his hand to shake mine. I reached out and shook, then looked down in surprise. There was a small flash drive pressed between our hands. We shook again for good measure and I carefully closed my hand around the drive as I pulled my hand away.

"Bonjour ma'am, sir." he said with a horrible fake French accent. Despite the hat and demeanor, he was definitely not French. He retreated quietly, having said no more to us. Colin looked at me curiously - not having seen the drive. I pocketed it quickly and turned to give Colin a kiss. I saw Amelie approaching over his shoulder and plaster a fake smile on my face for her, glancing once to see if Matthew was gone.

He'd just turned the corner and I returned my gaze to Amelie. "There's the bride!" I said.




"What are you doing here?" she asked Colin, ignoring me for the moment.

"Oh just wanted to spend some time with Molly, I have some errands to take care of here." Colin said.

"Oh Colin, can you pick up a men's suit?" I asked giving him Boris's sizes. "Boris is still and town and needs one, told him I'd pick one up for him since I'd be here anyway."

"Ah Boris! You should invite him to the wedding!" Amelie gushed. She and Boris had got along well during the meetup this past summer. "Is the suit for the wedding?" I merely nodded, knowing Amelie would cut me off if I spoke. "Très bien!" she exclaimed and turned to Colin. "Make sure the shirt is green!" she commanded and then looped her arm with mine and dragged me toward the bridal shop. I looked back at Colin pitifully but he was chuckling. He waved to me and then went off in search of a suit for Boris, with a green shirt.

Amelie dragged me into the bridal shop and was loudly lamenting that Deidree was late again when Deidree walked in. Deidree made no apology to Amelie for being late and merely turned to the seamstresses to get started. Being the final fitting, it should have been a simple affair but, of course, nothing simple happened with this wedding. Amelie was ranting in French for well over an hour and had one of the new, young employees in tears by the time she left. I turned to the girl and smiled. "It's alright - in a few days this will all be over thankfully." I said. Deidree overheard and laughed as she zipped up her garment bag. I waved to her as she left and collected my own dress. "Thank you." I said to everyone sincerely before heading out, prepared to hunt down Colin.

To my surprise he was already waiting for me, holding his own garment bag. "One male suit - with a green shirt." he said with a smile. "Suitable, I suspect, even by Amelie's standards."

"Nothing is up to Amelie's standards - but thank you." I said as he took the dress from me and carried it as well. "Can we go home now?"

Both the bachelorette and bachelor parties were intentionally held off until the night before the wedding so that all the out of country relations would be in town if they wanted to attend. Deidree had gone so far as to pick a night club in Paris for Amelie's party but then left all the details to me. At four in the afternoon, just as I was about to leave for Paris, a man called for Deidree. With a little questioning I discovered that he was her date for the evening, apparently she'd forgotten about the party. I told him she was sick and canceled the date on her behalf with a scowl. "Not making her a bridesmaid when I get married." I muttered to myself just before she walked in, completely carefree. "Better get ready, we need to leave soon" I said.

"Hmm?" she asked confused.

"Bachelorette party, Paris, night club, Amelie...." I said. "Any of this ring a bell?"

"Oh dear! I made a date...." she started to fret.

"Canceled, you're sick. Now go get dressed." I said trying not to sound too annoyed with her. She started to say something and then thought better of it and ran off to get ready. My cell phone rang and I flipped it open. "Hello!" I snapped, not having even looked at the caller ID.

"Hello to you too." Colin said surprised. "Problems?"

"Oh. I'm sorry Colin, really I am." I said feeling horrible for snapping at him. "What's up?"

"I'm on my way to pick up Boris and Sean before we head to Paris for Sean's party and wanted to say hi is all, not sure I'll see you before the wedding." Colin said. "I love you."

"I love you too Colin. And I hope you all have fun tonight - I'd say not to get Sean too drunk but....well he's Sean. We should have planned these for last night so everyone had a day to recover." I said imagining the hung over family, wedding guests and bride and groom in the morning.

"Too late now. Just try to have a good time." Colin said. "There's Boris, I'll talk to you later."

"Okay! Tell Boris I said hi." I said and clicked the phone off as Deidree came out of her room. "Let's go get the bride." I said.

A couple hours later, we guided a blindfolded Amelie up the narrow stairs to the night club. All of her cousins, Sean's female relations and a number of friends were crowded into the club waiting for her and cheered as we removed the blindfold. They converged on Amelie and Deidree and I slipped away toward the bar. We didn't know anyone in the room save Amelie except by voice when we'd called them to invite them all.

Amelie broke free after awhile and Deidree offered her her seat which she took as the bartender served us a round of drinks - NOT nectar this time. I tried to stop Amelie after a couple - reminding her that she had to be a blushing bride tomorrow but Deidree encouraged her and Amelie ignored me.




Eventually I managed to pry her from the bar to the dance floor. Being that we'd rented the club for the night, the only male in the room was the bartender so forty women of varying ages danced together to the rock beat. The purple light fell across Sean's grandmother's face and I almost screamed, her pale, frail skin looked ghastly in the club lighting.

Deidree saw me staring and followed my line of sight. I saw her jump a bit and then burst out laughing. Her laughter was swallowed by the music and noise of the group but I could see a large grin on her face. I made a mental note that no one over the age of about fifty should be invited to my bachelorette party. I so didn't need to see my grandmother dancing to rock music. I'm not sure I even wanted to see my mother dancing to this music.

Amelie, to her credit, could hold her alcohol well. She navigated the room with ease and socialized with everyone. I lost sight of her in the crowd several times but every time I spotted her, she seemed happy and relaxed so I tried to push all the bridezilla demands out of my mind for the time being. I was enjoying a good dance when I felt Deidree's hand on my arm. I turned my attention to her and she pointed toward a table where Amelie was seating with a man. Even though I knew he wasn't the bartender, I turned and checked that he was still at his post. He was. I struggled through the dim lighting to get a better look at him and recognition struck me. "What is he doing here?" I asked, mostly to myself. I started toward them but Deidree held me back. We walked over to the bar so we could get away from the noise a bit.




"Do you know him" Deidree asked as I stared at the two of them.

Matthew turned toward me and locked eyes with me. I quickly looked away. "Vaguely, not sure why he's here though!" I said.

"Well who is he?" Deidree asked turning her curious gaze on me.

"Oh my!" said another voice from behind me. "What on earth is he doing here?" We both turned to see one of Amelie's cousins standing at the bar eying Matt and Amelie.

"You know him?" I asked surprised.

"Oh yes. His name is Matthew Thibadeau. American - no offense. About...oh what was it..." she trailed off thinking, "I think it was six years ago, he came to town one summer and Amelie just about fell in love with him. They were very - how you - hot and heavy. She was 16, he was 18. At the end of the season, he left to return to America - broke her heart."

"Oooh" Deidree and I said together turning back toward Amelie and Matthew. "Well why is he here now?" Deidree asked. I tried not to cringe and wondered if he'd seen Amelie meet up with Colin and I that day. Amelie couldn't be dragged away from her old flame that night and I spent the night glued to a bar stool watching them. Deidree lost interest after awhile and returned to the dance floor. As the night closed, I was distracted from my vigil by relatives coming up to thank me for the party and such. When I turned back toward the table, they were gone. "Crap!" I said just as Sean's grandmother approached. "Sorry." I muttered looking over her to see if they were still in the room. They weren't. A few minutes later, my phone buzzed with a text message.

"I have a ride home, see you in the morning. -Amelie"

The morning of the wedding, I woke up to see the light on my phone indicating I had a message. I quickly checked my voicemail and found that Amelie had called around six in the morning to tell me she would see me at the nectary. It was a slight change in plans but the anxiety I'd felt about her and Matthew's meeting last night dissolved. I jumped as there was a knock at the door. "You awake Molly?" Deidree called from the other side.

"Yeah." I called back as I got out of bed. "Be out in a moment. Amelie called to say she's meet us there."

"Okay." Deidree called back and I heard her walk away. I pulled out my bridesmaid dress and started getting ready. Deidree and I helped each other with our hair and got to the nectary early to tend to Amelie, who I'm sure would need us.

I peaked in the room that I'd arranged to have decorated for the ceremony. It was perfect and I felt even better about the day. Everything was coming together nicely. I saw Boris already there even though most of the seats were still empty and went over to say hi. "Hey there" I said before I saw his face. "Oh you look tired..." I said as I looked him over. He had bags under his eyes and I think he was nursing a headache. "Long night?" I said with a grin.




Boris smiled. "Yeah, Sean and your man Colin sure now how to throw a party."

"That's mostly Sean, Colin was a figurehead I imagine." I said with a chuckle. I glanced over at Colin and Kevin, who both looked tired as well. Mentally I calculated how I would either convince them to wear a touch of makeup for pictures or how much would need to be photoshopped later. "Photoshop" I said to myself.

"Hmm?" Boris asked, drawing me back to the present.

"Oh never mind." I said with a laugh. "I need to go find my bride, I'm glad you came! I'll see you later." I waved to Colin and then hurried back toward the main office we'd arranged to be Amelie's dressing area. When I got there I expect to find Amelie getting ready but only found Deidree looking confused. "Where is she?"

Deidree shrugged. "Her parents just arrived and she wasn't with them."

I hurried out of the office in hunt of the family, all with a very large fake smile on my face. "Mr. Rousseau, have you seen Amelie this morning?" I asked her father but she shook his head and said she was coming with a cousin. I nodded and looked through the guests. All of her cousins had arrived. I smiled my way through the crowd until I could get Colin's attention and motioned him over. "Have you seen Amelie?" I asked quietly.

"No. Have you seen Sean?" he asked me just as quietly. None of us wanted to alarm anyone if it wasn't needed.

"No, you mean he's not here?" I asked, I knew despite my efforts, my face was full of shock and concern. Colin shook his head and then turned to Kevin and motioned for him to check the groom's room once more. Kevin disappeared. "You think they eloped?" I asked, not believing it would be possible after all Amelie had put me through. I pulled out my phone at the same time Colin pulled out his. I tried to tune Colin out as I got Amelie's voicemail. "Amelie, where are you. Be nice if you'd call me back....or, well, show up for your wedding....like now. Okay?" I clicked to hang up and dialed again. Behind me I hoped Colin was having more luck.

"Bonjour?" a strange voice answered. She then started speaking quickly in french and even after a couple years here, I couldn't understand most of it.

"Parlez-vous anglais?" I interrupted. Given her long French response, I assumed that was a no. I tapped Colin on the shoulder and handed him the phone, knowing his French was far better than mine. He hand me his and I held it up to my ear. It was still ringing. Finally there was an answer and it was familiar. "Sean! Where are you?" I almost shouted. I lowered my voice quickly. "Where are you?" I repeated.




"Just now? Boarding a plane to China. Where are you Mols?" he asked as if it was no big deal.

"China?!" I asked startled.

"Really? I would have thought you were still in France." Sean said jokingly.

"Sean....focus! Wedding, there is a wedding today and you are the groom." I said getting irritated.

"Oh I don't think so, Amelie made it quite clear in her note that there would be no wedding. Send my regards to the bride...or don't." he paused for a moment and I could just barely hear the sound of a voice over an intercomm but couldn't make out the words. "I have to go now Mols!" Sean said and turned off the phone. I stared at it in disbelieve.

"What note?" I said to the phone. In truth I wanted to scream at it. I quickly dialed Sean's number again but this time it went straight to voicemail. After hanging up I turned to Colin to see him also staring at the phone, looking confused. "He's about to fly to China." I said holding up the phone as if it would explain everything.

"She ditched her phone, some lady found it in the trash and saw someone matching Amelie's description riding away with a man with short dark hair, wearing a baseball cap. That's all I could get." he paused and then I could see my words sinking in. "He's going to China?"

I nodded. "Something about a note Amelie left him. She ditched her phone? Amelie sleeps with her phone!"

We both looked at each other confused and then looked into the room where Deidree and Kevin were happily chatting up guests as they helped them find seats. The wedding was off and no one had any idea except us. "What do we do?" Colin asked. It was the first time I'd seen him looked so lost.

"We have to tell them, we can't just let them all sit and wait anxiously for them to show up...." I said and turned to him for agreement. He had to agree with me or I'd chicken out.

"Right, of course." He took my hand in his and together we walked down the wedding aisle. Colin stood close to me as we reached the front and Deidree and Kevin saw our expressions and took seats at the front. "Can we have your attention please?" Colin said loudly to silence the shuffling of bodies and chairs.




I took a deep breath as a hundred pairs of expectant eyes turned toward me. I tried not to flinch away from them and focused on Boris since he was a friendly face. "The wedding has been called off. Sean and Amelie have both gone their separate ways and offer their apologies for the inconvenience." I said and then closed my eyes, I didn't want to look on everyone's faces as the news sunk in.

As expected that was a general outcry of disbelief. Colin gripped my arm as people began shouting questions at us. Finally Amelie's father stood and offered the already set up reception to anyone who wanted to take part. I thanked the stars for him taking the heat off and Colin and I quickly left, with Boris, Deidree and Kevin following behind. We were halfway home before someone spoke up. "So? What happened?" Deidree asked.

I just shrugged. "Something about Amelie leaving Sean a note, he's on his way to China now actually." I said.

"China?" Deidree, Boris and Kevin all said at the same time. Again I just shrugged and leaned against the cool window of the car.

After the non-wedding, it was time to say goodbye to Boris. I wished him luck on his travels. "You be careful." I said giving him a hug at airport security. Boris wasn't the only one leaving, Deidree had held off joining her dance troupe in order to attend the wedding, almost as soon as it was over, she was ready to be off as well. She'd sent her boxes ahead so on the morning of her departure, she just had a few suitcases for the flight. She assured us that we didn't need to take her to the airport after we'd just seen Boris off and scheduled a cab. "Any word from Sean?" I asked as Colin, Deidree and I stood in front of the house Deidree and I shared waiting on her cab.

She shook her head. "He won't answer his phone, it's on but he doesn't answer. I think he's okay though - just thinking I guess." she said.

I nodded. "Have fun." I said seeing her cab approach. "Call me!" We both leaned in to hug and I didn't want to let go. As flakey as she'd been lately, she was still Deidree!




"I will. You two keep in touch." she said. Colin was helping the cab driver load her bags into the trunk but her small carry on was still at her feet so she leaned over and picked it up. "I will miss you both." she said and gave each of us hugs again. "You take care of her Colin!" she said with a grin.

Colin put his arm around my shoulders and grinned. "I will." he said.

"Alright...I have to go." she said hesitating at the door of the cab. She ran toward us and embraced us both in one more hug. I saw her eyes glistening and knew my own tears were not far behind. She stepped back and blew us both kisses and then got in the cab. The driver closed the door behind her and got in the driver's sear. We waved as they pulled away and she turned in her seat to wave at us from the back window. I stayed where I was, watching her go until the cab was well out of sight.

"They're all gone now." I said looking at Colin. "How odd." he nodded and held my hand as we walked back into the all too silent house. There were pictures of Amelie, Sean and Deidree on the walls, along with pictures of Colin and myself. "I'm going to miss them."

"We'll keep in touch." Colin said giving me a kiss.

As much as I missed having Deidree around as a roommate, he departure had put an end to the revolving door of boyfriends she brought home. Before, Colin and I had spent most of our time at his house because of it but now he spent the night at my house as often as I stayed at his. "Why do you still have this shirt?" Colin asked as I worked in the small garden outside my house. I was wearing the French tourist shirt I'd found in his luggage during the ski trip.

"Hmm?" I said looking down at it. "Oh I don't know. I like it." I said with a wink and a grin.

"Really?" he asked smiling at me. I stood up to meet his lips with a kiss. "Looks better on you anyway." he said.

I pulled off my gardening gloves and dropped them, along with the trowel, on the ground next to the apple tree and led Colin inside.




"Okay, I like the shirt too." Colin said with a laugh.

"Good." I said as I curled against him.

With Amelie, Sean and Deidree gone - things quieted down dramatically. Colin and I both still had classes of course and Colin was working for the architecture firm still but there were no weddings, no moving - life was almost dull really.

I was out for a jog when my cell phone rang in my pocket. I stopped and caught my breath as I fished it out and looked at the caller ID. "Why is Garrett calling?" I wondered allowed and hit talk. "Hey big brother." I said happily.

"Hey Molly! How are the snails and frogs?" he asked with a deep laugh.

"Fine and fine I imagine" I said with a chuckle. "I don't keep company with snails actually."

"Good, better that way." Garrett said. "So...I have some news...." he paused and I waited anxiously. Was he deploying again, getting out, moving farther from Crescent Bay. "How do you feel about being an aunt?"

"Oh my!" I said excitedly. "Is Rhonda pregnant?" I asked referring to Ian's wife. "Are you getting married? Is she having a baby? Who is she?" I asked the questions quickly and Garrett wait for me to run out of steam.

"Actually, I already have a baby - or a toddler actually." he said.




I was silent as I tried to process and think. I know I didn't go home often but this kind of news would have reached me.

"Her name is Lauren, she's two and a half." Garrett said filling the silence. "You still there Molly?" he asked.

"How could you not tell me you had a child?" I asked, practically shouting.

"Whoa! I didn't know! I swear I didn't." Garrett said defending himself. "I just found out a couple weeks ago actually, I'm back at Mom and Dad's now for a bit."

"Okay, how could you not know you had a two year old child?!" I asked, still loud. A few locals looked over at me.

"Her mother didn't tell me," Garrett replied. "When she...." he trailed off and I thought he might be moving as the background noise changed. "When she died, an attorney found me and well, there it is."

"Oh Garrett, I'm so sorry. Who was she? When did you meet her? How did she die?" I started asking questions again. "Wait, I'm sorry...."

"No it's okay, I met her on R&R. We enjoyed each others' company, I gave her my number and even tried to call her a few times but she never called back so I assumed she wasn't interested. Her name was Adriana." he said. "Look, I wanted to tell you in person but...well you're in France." he said with a laugh.

I chuckled. "Yeah. Can't really just say 'let's do lunch' then can we?" I smiled. "I'm glad you called. I want to see pictures of my niece!" I said with a grin.

"That I can do. I'd like you to see her in person - think you'll be coming home this Christmas?" he asked.

"I hadn't planned on it but maybe. I'll look into it Garrett okay?" I said already trying to figure out how soon I'd need to get a plane ticket and plan the trip.

"Okay sis. I have to go put Lauren to bed. I hope I see you soon." Garrett said. "Oh and you should bring that Colin of yours - give your brothers a chance at him." he said with one his deep belly laughs.

I chuckled. "I'm not sure that would be good - four on one is hardly fair odds, five if you count Eric. That little boy can pack a mean punch."

"Oh we'll be nice! Just consider it. Love you sis!" We said our goodbyes and then hung up. I slipped the phone back into my pocket and resumed my interrupted jog, thinking about Garrett and this new little girl. I wondered what she looked like and what her mother had looked like. I was supposed to meet Colin at the school after his last class and headed that way. I reached the lounge before he did and took a seat on the couch with one of my photography books.

"Hello you." he said talking a seat next to me. It was November now and there was a chill in the air outside so the fireplaces all over the school had been lit and it lent a certain coziness to the air. I put my book aside and leaned into him, enjoying the feel of his thick sweater on my cheek.

"Do you want to come home with me for Christmas?" I asked. "To Crescent Bay?"




"I didn't know you were planning to go home for the holidays." he said surprised.

"I wasn't. I just got the oddest call from my brother Garrett - apparently I have a niece, a two year old niece....and I want to meet her and he'll be home as well." I explained.

"A two year old niece you didn't know about?" Colin asked.

"Neither did Garrett apparently. The mother never told him about her, she died - I'm not sure how - and some lawyers contacted him I guess." I said. "Anyway, I want you to meet my family so, do you want to come?"

"Of course, I'd love to meet your family and see where you grew up." he said.

"Good," I leaned back against him and smiled. "Good"

I started looking into flights the following week. The closer it got to December, the more expensive the flights around Christmas got. My parents were funding this grand French adventure of mine but I still had my own savings. Still, the plane tickets would drain that savings easily. Anxious about being without that side fund, I waited too long to purchase the tickets and the prices jumped again. "Damn!" I said.

Colin came up behind me and put a hand on my shoulder. "What is it?" he asked.




"I should have bought the tickets last week, they've gone up about three hundred per seat now." I said with a sigh. I knew my dad would have paid for the tickets without a problem if I'd called him. I could wait until the day before and call him and he'd still pay for them without blinking an eye but I hadn't wanted to.

"Well order them now before they go up farther." Colin said practically.

"I can't, I need to call my dad." I said pulling out my cell phone with a sigh.

Colin looked at me curiously and then leaned over me and started working at the computer. Within minutes he'd bought us two first class tickets. "There, it's done." he said.

I looked at the computer screen and then at him and back at the computer screen. "Just how rich are you?" I knew he, or his family at least, was wealthy but I didn't care about the money so I'd never really asked.

"More than I need in a few lifetimes." he said with a shrug. "Certainly enough for a few plane tickets." he paused and then looked at me. "Is that alright?"

"What? That's you're rich or that you just bought the tickets?" I asked still looking at the confirmation page.

"Either, both..." he replied.

"It's fine, you saved me from asking my dad - he pays for all of this so I didn't want to ask for those too." I said mulling things over.

"Okay." Colin said. "You sure?"

"Hmm? Yeah, yeah it's fine. I love you." I said with a smile to reassure him.

"I love you too." He said, he looked like it was going to say more but his phone rang. He picked it up. "Hello?" he said.

I turned back to computer and clicked on the print button to print off the confirmation.




"What's wrong with him?" Colin asked sounding worried. I turned back around to look at him. "Mhmm, right. Okay." he said. "Alright. Yes Mother, I understand." After several more minutes he hung up and looked over at me. "Change of plans I'm afraid. I need to go home to England."

"Oh what's wrong?" I asked, he was obviously upset by the news he'd received.

"My father is sick. As soon as finals are over next week, I'll need to leave. I don't think I'll be able to go with you to Crescent Bay." he looked at me with worry on his face. "I'm sorry Molly."

"No! don't be. I understand completely." I said going over to him and holding him.

He returned the hug and held on tightly as if I might disappear. "I'll join you there if I can, or I'll see you when we both come back of course."

"Of course." I said. I held his hands and gave him a kiss. "Come on, let's go to bed." I said.


Tony

Laila enjoyed meeting my friends from high school, I think she really was excited about meeting Boris, I was glad they all got along well.

Still posing as a wealthy business man the Khadra finally contacted me, a member came into my office at work and arranged for a meeting; they were in need of funding and were looking for support. I agreed to meet them tomorrow alone.

When I returned home Laila Kim and Linda was already there, as I started to give them the news Kim began to speak "Tony, you can't go to the meeting tomorrow" surprised I asked "How did you know about the meeting? I was just about to tell you what happened."

Kim: "They know who you are; they also know about Boris, you are being setup.
There is no meeting; they intend to take you hostage, they also know it was you that rescued the prisoners including Laila's dad."

Linda: "We have relocated Laila's parents for the time being; now we need to relocate, it's not safe here, and Kim is taking a big risk coming here to inform us of what has taken place."

I was quite taken back by all this and paused to think, "If I don't go to the meeting tomorrow, they will know that I was somehow informed of their plan." Laila being afraid of what I might do "You can't be thinking of going? They will kill you Tony, I can't live without you." "I don't know what I'm going to do, but I have to do something."

I went upstairs to think, Laila came with me.

Linda: "What the hell is going on? She can't live without him? Are they dating?"
Kim: "where have you been? They have been dating for over a month now."
Linda: "I thought all this sweet talk, was them getting into their roll as husband and wife, I did not know they were actually involved, this is a dangerous situation."

While Laila and I talked upstairs, Linda contacted the FBI and updated them on the situation, who in turn contacted the military. It was a matter of minutes before I was contacted by the military.

I was ordered back to base tomorrow to give a report, and not to meet the members of the Khadra, I informed Laila, that I was ordered to report to base and I had to leave tonight. Laila was quite said to see me leave yet, she was grateful I was not meeting the Khadra.

Laila: "how long will you be gone?" "I don't know, all I know is they want a report, it may be days, weeks or they may not send me back, I really don't know."

It dawned on me that it may be some time before I would see Laila again, we embraced in a lingering hug, as I held her in my arms, I took a deep breath and slowly exhaled, I felt my shirt getting wet from Laila's silent tears.
Laila took a step back which broke our hug, took hold of my hand and started to speak softly "I don't want you to go Tony, it's as if they are taking my soul from me, tell me now, if you are ordered not to return, will I ever see you again?"

I smiled and with a wink of the eye, "You can't get rid of me that easily, I will not be in the service forever; one day we will be together again, that's if you still want me, I don't know how long we will be a part, you may find another love."

I looked as Laila's expression changed; she became quite upset "How can you say that? I will never find another, I gave my heart unto you Tony and we are bonded for life, and I will wait for you, no matter how long it takes." "I'm sorry Laila; it's just that I don't know how long I will be away and there is a lot to consider, like where would we live? could you leave China? Would you want me to leave my home? Don't answer this now; just think about it while I'm away."


I guess Laila never though about all that before, I can understand that though, love can blind you to things like that. I kissed Laila good bye, said good bye to Kim and Linda and returned to base, I must admit I felt lost without my new found friends and wondered how long will I be on base and will I ever see Laila, Linda and Kim again.

I was called in to give my report I informed them of everything that happened up until the time I was ordered back to base.




"I'm a man of my word Starks, your team gave us some good and usable intelligence, and that prison break was good stuff, there were a few of our forces that were in there, they were able to fill in the gap. I've written your letter of recommendation to the Special Forces, that's right, in two weeks you will be a member of the Special Forces."

Not that I was not grateful, but I had to ask "Sir, Will I be returning to China?" "That team is being dissolved even as we speak, they are being returned to whatever they were doing before." "So Am I to stay on base?" "Once you are a member of the Special Forces in two weeks; they will assign you to your new missions however; for the next two weeks you report to your old commanding officer Sergeant Williams, Dismissed soldier." "Yes Sir!"


I was sent on Mission after mission over the next few months, when I would return I would read my emails from my friends, Stormy had written me quite a few, so I wrote her back, she was looking for me to go to Egypt with her, but now I was unable to travel.

There was two emails from Linda saying how sorry she was, she did not know the mission would end after sending her report, but she did get a promotion in the FBI, Kim was still an informant within the Khadra but reporting to the Chinese government. Ruby sent more pictures of the family.

Then I read an email from Laila.

My dearest Tony,

I had a dream that I could fly, I could feel each moment as time went by.
You would never be to far away, you will always be here I heard you say.

I never thought it would be our last goodbye.
I still can dream, that one day love had fallen from the sky.

Do you still remember, all the time that has gone by?
Do you still believe that, love can fall out from the sky?
If from where you're standing, you can see the sky above.
I'll be waiting for you, if you still believe in love.

I'll be waiting for you, in my heart that you have won.
If I can not find you, I will look up to the sun.
If from where you are standing, you can see the sky above.
I'll be waiting for you, if you still believe in love.

With a sigh I closed my laptop. Not sure how long it would be before I saw Laila or if I would ever see her again. I did not realize just how much I loved Laila until we were apart; I thought of her constantly and wrote her often.




Days turned into weeks, weeks turned into months, soon I was counting the days till I would be out of the service, I decided not to reenlist into the service, I'm done. I emailed Laila and told her of my decision, and I would return to China upon completion of my service.

During The Month of October I was called into the Generals office.




"We have a SF S-3 ops mission for you Tony, I received S2 Communication from your friend Boris, he has given us some good intell on the Khadra but now he needs our help. As you know I owe him, and he requested you for the mission his employee is MIA and believed held by the Khadra you have been assigned to find Denis."




Special Force Commander Reed: "I've assemble you're A-team to complete Operation Denis, this will not be a killing zone, but a search and rescue, you and your team must enter and retrieve Denis undetected you may need to takeout a few but I don't want a all out war on this one. We still are not certain which location he is in, but we have intell that he may be in one of the Egypt holding facilities."

Tony: "Sir, permission to speak." SFC Reed looked with his stern appearance dead into my eyes "Speak solder." "Sir I request my old team from China to complete this mission."

I must have ignited a spark in SFC Reed; let's just say he was not ecstatic with my request "What! I've assembled some of the finest Spec-4 members of the force and you want women? What? Did you get a piece of tail from one of the girls and now you can't live without them? And now you think you can do it with a RIF-Team? (Reduction in force) Maybe I did not make myself clear son, this is a search and rescue; not a suicide Mission!"




"Sir, I trust them with my life, and no disrespect to the men you have assembled, but no one knows the inside of the Khadra like Kim and Linda, if anyone can pinpoint where they are holding Denis it's Kim, and as far as getting in undetected and taking out the enemy as needed; you have not seen the fighting skills of Laila, I'm sure the four of us can retrieve Denis."

Disgusted and grinding his teeth Reed snapped and said "hell, it's your funeral, you'd just better get it done then. He's all yours General; I'm done with this piece of meat."

The General: "I'll do what I can to try a locate them, but it's not up to me if they accept the mission; they must all agree or no deal, if one member says no, then you have egg on your face son, because you just pissed off Reed and you will have to ask him for help to complete the mission."

Tony: "Do what you can Sir, I'll deal with Reed if I have to."

Luckily for me they all accepted the mission, we were given two months to locate and retrieve Denis; I was to meet Laila, Kim and Linda in Egypt. Kim was already working on finding where they would be keeping Denis. Linda went to China to get Laila then would leave tomorrow to set up a place in Egypt for our headquarters. I leave for Egypt in one week at the end of October.

Once everything was set up I received my orders, As I boarded the plane for Egypt I thought upon my friends back home, I did not want to let Boris down, Although I was excited about seeing Laila again; my main focus was to locate and find Denis.

As I arrived Laila was standing outside our new headquarters, and greeted me with a immense hug with her in my arms everything was right again in the world, "It's great to see you again Tony, I feel you" I smiled and responded "I feel you".




As I walked inside Linda greeted me, "I'm so sorry Tony; had I known that they would end the mission I would never had sent in that report." "It's ok Linda, you did what you thought was best for the mission".

Kim already had intelligence of where Denis may be held, so the first thing we did was to divided Egypt into sectors, setup our equipment, and got right to work.




Tony: I'm sure you were all briefed on our objective: to find and retrieve Denis, this is the latest picture I have of Denis." I handed each of them a picture of Denis, I booted up the computer and logged into the Boris system "according to Kim's intell Denis should be somewhere here in sector nine, tonight we need to reconnoiter sector nine and gather more intelligence, well need to know how heavily guarded the building is."




Tony: If you notice the dark area here, there must be an underground area, I'm thinking this is where they keep the prisoners but we need to be sure."
Kim: "They will never allow me into that area."
Tony: "you won't have to go in there." I picked up the phone "This is Starks I need a recon on sector nine, I'll plant the eyes on the east wall at twenty three hundred."

Linda: "plant the eyes?"
Tony: " yes, it's a device like a scanner chip if you will, once in place, we can see through the walls of the building using a satellite and also use inferred to detect body temp to get a count on the number and location of anyone down in that area."

Tony: "Kim and Linda, what I will need from you two are the number of guards on duty at all times, also what time they do shift changes, also need to total number of personnel on the upper level. How long will it take you to get this info?"

Kim: "It will take us at least three months to gather that kind of info."
Tony: "I need it done in one month, any longer and Denis may be dead."
Linda: "We'll get in done in a month."
Tony: "Great, Laila and I will work on the lower level of the building and plant eyes and ears."

It was now Late November, Recon on our objective was completed, we had all the intelligence needed to complete Operation Denis, but it would not be easy, there were three hundred and twenty six men there; we were going to need a large distraction to reduce their numbers, also there were 10 guards on the lower level that needed to be taken out, If that was not enough; less than a mile away there were reinforcements three thousand strong. The military decided to take out the Khadra at that location; seeing they had such great numbers. This would be the distraction we need.

Tomorrow they will be doing a prisoner move, meaning they will be moving all the prisoners form one location to another, they keep moving them to make them harder to find, which also means there will be 10 more transport guards.

Tony: "It's now or never, if they move Denis we will have to start all over again and we don't have the time. The transport will arrive at twenty two hundred to move the prisoners, It's now 18 hundred, we have we have four hours to get into place retrieve Denis and be out of there; everyone know what they have to do; let's do this!"

I picked up the handheld "This is Tony Tiger and Mama Dragon; we need that Cobra Strikes on sector 11 on my mark" "Copy that TT and MD, this is Cobra Leader we are in position T-30 I'm sure they hear us coming."




Tony:"Copy that, Strike in T-30, this is Tony Tiger signing off."

Cobra Leader: "T-1 this is Cobra Leader we are in position, Ok boys light her up!" "Copy that Cobra Leader, Ok boys lets bring the rain."





With the distractions in place it was now up to us; to go in and get Denis "OO-RAH!"

As the Cobra team open fired upon the Khadra base one mile from our location, you could see the smoke rise into the air, the sound of thunder as the ground shook from the pounding they were receiving. The members of the Khadra at our location was in shock as they scrambled to see what was happening, this gave us ample time to get to the lower location where the prisoners were being held.

As we descended into the lower levels we were met with little opposition from the enemy. We fought our way through and begin our search. We decided to split up to cover more ground in a shorter amount of time.




As we checked behind each door it was looking hopeless as each room was empty or had dead bodies; were we too late? Did they move the prisoners? Then as Laila was checking the last door I heard her on the handheld "Oh My God! Tony, you better get over here!" "I'm on my way."



We made our way out of there as the last bombs landed on sector 11.
When we arrived back to headquarters I contacted the General.
The General Contacted Boris "Boris, I have a man on the way to pick you up. He will take you to the base, from there you will board one of our jets and escorted to Egypt."
Boris: "Did they find Denis alive."
Gen: "I'm sorry Boris; they did not find Denis alive, Tony will fill you in when you arrive in Egypt."

Boris was escorted to our small headquarters, when he arrived I greeted him.
Boris: "Hi Tony, tell me, is Denis dead?"
Tony: "We need to talk Boris, come with me."




I lead Boris to one of the rooms and opened the door, as I held the door open Boris walked inside the dark room; I did not enter the Room but closed the door behind him.



As the door closed the lights came on in the room, Boris squinted his eyes as he stood in disbelief, shocked "Jing!" "Yes Boris, it's me, Jing."


Ruby

The flight to France was very tiring. I hadn't gotten much sleep with Byron crying most of the night before. He has a cold and was coughing a lot. Mom said it was just a small cold and not to worry. She told me she'd keep us updated if anything happened. I was hesitant about leaving my kids for a few weeks. Especially one that was sick, but she assured me she could handle it.

"Now Mom, please, please call me the minute his cold worsens. The gang will understand if we have to leave early." I pleaded with Mom.




"Ruby, its fine. I've been through worse with you kids. I think I've got this. You go and have fun. I'll see you two later."

Reluctantly I hung up, but with a mound of worries. I was tired and I didn't feel right, leaving. Axel assured me all would be well. I don't see how he can be so calm. Why don't men worry about these things, like us women do?

Axel said I could sleep on the plane, to make up for the sleep I had lost the following night, but I was too concerned with leaving the kids. Axel saw the worry in my eyes and gave my hand a tight squeeze.

"Don't worry honey, they are fine. Your Mom wouldn't let you go if she couldn't take care of them. Plus she has my dad's number if she needs anything at all. Please, lay back and try to sleep."

I squeezed his hand back, "I know, I know. I worry too much."

Axel laughed, "Yes, yes you do, but that is why I love you. Now, put these headphones on and try to sleep."
I put them on and let the world of Mozart and Beethoven take me away. I awoke to the plane touching down. "How long was I out for?" I rubbed my eyes. It felt like I had slept for hours.

"You've been asleep for five and a half hours. But you woke up just in time. We are landing."

I leaned over Axel to look out the window. The city looked so pretty. "Oh, Axel, look." I pointed at the Eiffel Tower in the distance. "Isn't she beautiful?"

Axel caressed my cheek, "Not as beautiful as you, my love." I sat back in my seat and looked into his eyes. "Ever the charmer aren't you?" We shared a tender kiss as the plane finalized its descent.


We were meeting at Molly's school for her get together on the 11th. Axel and I decided to arrive in France a bit early, so that we could see the sights alone before getting with the gang. I really wanted to see the Eiffel Tower up close and personal. I had always seen pictures of it in my textbooks at school and in all those sappy romance movies I loved, but nothing can compare to being there face to face.

As we made our way into the airport I was struck at how busy it was. You hear that this is one of the busiest, but you don't realize how much until you actually witness it firsthand. I don't see how one doesn't get lost and bumped around amidst all these people.

Axel had set out to collect our luggage from the baggage carousel. He didn't seem unnerved by all the folks rushing about. He just pushed his way in between them. He gathered our things and made his way back to me.
"You okay hun?" I asked him as he put our bags on a cart.

"Yeah, let's get out of here before somebody gets hurt."

I went up to the Air Europe counter to rent us a car. The employee was a pretty girl with brown hair and blue eyes. She was young, probably early 20's. She didn't appear to particularly want to be stuck in an airport on such a beautiful day.

"Yes? What do you want?" she stated impatiently.

"Umm, hi, we'd like to rent a car?" I replied, looking for Axel. He was coming along behind me with our things.
She sighed and proceeded to punch some keys. "Having a bad day?" I asked her.

She looked up from her computer screen and answered, "No," and returned to her screen while rolling her eyes.

Axel was getting irritated at this girl's attitude. "Listen, Missy. We haven't asked you to do anything you aren't already getting paid to do. So, just find us a car and let us leave. Because, honestly I don't care what kind of day you're having."

I placed my hand on Axels' arm to try and calm him. "I'm sorry about that. It's been a long flight and we are very tired. If you'll just find us a car we'll be on our way." She found us a car but her mood didn't improve any.

Axel filled out the insurance forms and said, "You can bet I will make sure you don't work here anymore. I've had better service at McDonald's."

The girl handed me the keys and we were on our way. I couldn't believe the audacity of some people. No apology, no nothing. I shrugged it off. I wouldn't let it spoil my time here. I was looking forward to the following week and seeing everyone again.

While walking through the airport to our car, I spied a woman and an old man. At first I thought they were father and daughter as close as they were, until I saw her kiss him. This definitely wasn't an "I love you daddy" kiss.

"Oh my gosh, Axel, look at that woman!" Axel glanced over and smiled. "And just what is so funny? He could be her grandfather. Ugh, look at the two of them, it's disgusting! What could he possibly be doing with her?"

Axel started laughing, "Do, I really have to explain it to you?" he smirked.

My eyes went wide. "Thanks for that disturbing visual, Axel. I mean it…what is she some kind of gold digger?"




"Eh, it's possible. He looks like he is well off. Or maybe he just likes the company, who can say? Why do you care?"

"I don't, just seems sad, that a tramp like that would take advantage of a poor old man just for his money. Do you think he knows?" I looked over at them and frowned.

"Honey, some men at that age probably just like the company. They know they won't be around forever and need someone to share their last days with." I started to feel really bad for the old man, which in turn led to anger at the tramp hanging on for his money.

"Come on honey. Don't worry about them. We are here to have a good time. Don't let your emotions get the best of you, okay?"

"I know and you're right." I said. "Ahh, yeah. …I never get tired of hearing that." He winked at me and kissed me on the cheek. "Now let's get to our hotel. I am hungry."


When we arrived at the hotel, I was amazed at how beautiful it was. The room was decorated in gorgeous red and blues. While I was busy looking at how wonderfully everything looked, Axel was anxious to put things away and get dinner. He just dropped everything on the floor and quickly called room service. I swear, he ordered enough food to feed an army.




"Dang, Axel. You'd think you hadn't eaten for days." I joked.

"What? All I had on that stupid flight was the nasty peanuts they give you. I am starving."

We changed into some comfortable clothes and sat watching T.V until the food came. Axel had also ordered some champagne and requested a couple of candles for our mini-table. It was really quite romantic. After dinner, I was feeling tired, I took Axel by the hand and led him towards the bed. We laid there in each other's arms until we must have dozed off. I hadn't slept like that in a long time.




Axel was still asleep when I woke up. I wanted to go shopping. I hadn't had any new clothes since the kids were born. It was time for some pampering. I took a shower and got myself dressed. I shook Axel,

"Wake up sleepy head. You going to lay there all day?"

"…Nnnnn…. Five more minutes." He mumbled.

"No more minutes. Come on!" I whined. "Take me shopping, please?" I gave him my sad puppy eyes, the ones men are helpless to resist.

"Alright, alright. Let me get up. Get me some coffee, woman."


I dragged poor Axel from shop to shop looking for the right outfit. That's when I saw it in the window of this cute little shop. "There! That's it!" I squealed.

"Oh thank god, my feet are killing me." Alex rolled his eyes.

"Be quiet you. Let's go in." I said as we entered the shop.

An older woman greeted us as we walked in. She had a sweet round face. Her blue eyes shone brightly. "Bonjour, Madame et Monsieur, how may I help you this morning?" she smiled sweetly at us.

"I would love to try that beautiful dress in the window there." I answered with excitement.

"Of course, Madame. Would you mind going to the dressing room. I shall bring one in your size." She left to the back of the store and promptly returned with my outfit. I tried it on, and walked out.




"Come on honey, work it." Axel winked at me.

I gave him my best supermodel pose. I giggled at how foolish I felt, but it was fun and I made it look good. "I'll take it, please." She rang me up at the register and wished us a good day.

We left the store and decided to visit the Eiffel Tower. I had never seen it up close and was really hoping we'd get a chance to. Axel took the scenic route. We traveled over what seemed like miles and miles. I saw vast rows of grape vines of all colors and aromas. The quaint little farm houses were so cute. Like something you'd see in a postcard. I just loved it all. We finally arrived at the tower. It was HUGE! I mean, I guess it would be, but you never realize how much so until you are there.

We traveled all the way to the top of the tower. The view looking onto the city was amazing. You could see the Nectary, the Louvre and the river that ran by the hotel. When we made our way to the bottom we took a walk along the bridge and watched the moon come out. In the distance we could see the lights on the tower. It was absolutely breathtaking. Axel stopped me and pulled me into an embrace right there. We kissed for a few moments and then gazed out at the river.




It was nearing dinner time and we hadn't eaten yet. We spotted a small little corner cafe that had a small table set up. It looked nice, so we stopped there to have a quick bite. It was run by a married couple. They were older, but had very warm, pleasant faces. You could tell they had been together for years and were still in love.

"Oh, look at them; I hope we are just like that when we are that age."

Axel just smirked at me. "What? All gray and wrinkly?"

Smacking him on the chest, "No, you insensitive male. Still in love." He just smiled. We ate a nice a meal and I thanked the couple for their hospitality.

"Well, hun. Are we done shopping for today? I'm beat. I could do with some shut eye right about now." Axel yawned and he really did look tired.

"Yah, let's go back. Thanks for taking me. I had fun, didn't you?" I asked.

"Of course I did. Shopping is great." He replied sarcastically.

"Oh, you." I stuck my tongue at him and folded my arms. He just laughed. I turned on the radio and settled in for our drive back to the city.

The next day, Axel called Boris to let him know we had arrived at the village. It took us a few hours to get there, so we freshened up a bit before making our way to the restaurant.

"Axel, how do we know which restaurant they are at?" I asked.

"Boris says it's the only one in the village. We can't miss it."




We arrived at the square with Boris and his friend already waiting for us. He introduced her as Elissa. Why does she look so familiar? I don't know anyone in France except Molly, so where had I seen her before. Then it dawned on me. The tramp from the airport! What was she doing here with Boris? I just couldn't believe it. We had to tell him, I couldn't bear it if Boris got his heart broke by this two timing floozy. Well, I wasn't going to make a scene here and embarrass Boris and Axel. I ate my food politely and commented on how good it was when necessary, we made small talk, but after the meal was finished I rose from my seat. While motioning to Axel that is really was time to go.

"We have had a long day of travel and are very tired. I hope you will forgive us, but we need to get some rest. Boris." I nodded at him as if to say I would speak to him later. We made our way back to the car. Axel grabbed my arm and pulled me to face him.

"What was that all about Ruby? You acted very rude to Boris."




Axel was mad. I could tell. Maybe he had a right to be. He didn't recognize her. "You know who that was don't you?" I said sternly.

"Who, who was?"

"You know damn well who, the tramp at dinner." Axel was visibly irritated.

"Ruby, what are you talking about? How do you know her?"

"She's the gold digger at the airport! That was her, with your brother."

A light of recognition appeared on his face, "Well, well well, Boris going for the French Frogs. He could do worse. Besides, why do you care so much? He is a big boy. I think he can make his own mistakes."

I was furious, how dare Axel make light of this. "Damn it Axel. I know he is your brother, and he is an adult, but he's my friend. I won't stand by and watch his heart get broken by some French floozy! I'm going to call him right now."

Axel speaking calmly, "Ruby don't get yourself all worked up over this. You don't have to call him and bother him."

"Yes, I do. He could be with her now. She's rubbing the same lips that touched the old guy all over Boris." I shuddered at the thought. "No! We have to tell him. Now!"I quickly dialed Boris's number. It rang a couple times when Boris's familiar voice answered, "Hello Ruby. Is something the matter?"

I took a deep breath to steady my pounding heart, "As a matter of fact, Boris, there is. I think you should know something about that tramp, you are surrounding yourself with. Axel and I saw her at the airport the day we landed in Paris. She was with an older gentleman. I at first took him for her father possibly, until she started kissing him. Boris, she trouble. Stay away from her, she'll just hurt you. She doesn't love you. Not in the way that you think she does. I know you probably don't want to hear this, but you have to understand, I don't want to see you get hurt by this… this slut! Do you understand what I'm telling you, Boris?"

There was a brief pause and Boris answered, "Yes, Ruby, I understand. I also know how I feel right now, and I'm sorry for this, but…" the line went dead. He hung up on me.

"…hello? Boris?... He hung up on me. Can you believe it?" I was stunned.

"Well, honey. You did rip him a new one. He'll be okay after a good night's sleep. Come on, let's get some rest. You'll feel better in the morning."

I just shrugged. I still was in shock Boris would do that to me. I mean, I was only looking out for him. I had a restless night. I kept reliving the conversation in my dreams. Only Boris was the one yelling at me. I awoke to the alarm clock buzzing in my ear. I was grumpy and didn't want to go.



"Come on, sunshine. Wakey, wakey." Axel had a cup of coffee and some breakfast ready for me.

"Do, we have to go? What if Boris hates me? What is she's there and I punch her right in her stupid face?" I drank my coffee and nibble some of the bacon on my plate. "He doesn't hate you. You're much too sweet to hate. And if you punch Elissa in the face…well, that would be something to see, huh? Now finish breakfast and get ready. We have to get going."

I enjoyed my breakfast and took a quick shower. When we arrived at the Nectary I noticed she was there with Boris.

"Axel look…she's here too. Look at her. All smiles as if she is completely innocent. I ought to go over there and give her a piece of my mind!"

I started to make my way to where they were standing as Axel grabbed my arm. "What do you think you are doing, young lady? You are not going over there to start a fight. As much as I would love to see a cat fight, this is Boris, your friend. He is old enough to do what he likes."

I pulled my arm out of Axels' grip. "Fine! But I am not going anywhere near them today. We'll see the events planned and then we leave."

I sighed as we walked the opposite direction of Elissa and Boris. After a few minutes of us walking around the grounds in silence, I asked, "You think I'm over reacting, don't you?"

Axel smiled, "Who? You? Never!"

I lightly punched his arm. "I know, I'm over emotional, I let things get to me too easily. I appreciate you keeping me in check, though honey." I kissed him on the cheek. He held my hand as we finished looking at the various tables. We ended up spending more time than I had planned. I enjoyed the time I was able to spend with my husband. These moments come so few and far between, that I have to grab onto them when they present themselves.

I lost sight of Boris and Elissa, which I suppose is a good thing. I had hoped that we could talk before the meet up. I'd hate to have any hard feelings between us. I love him and would hate to know that I've hurt him. Axel drove us back to the hotel where he had a romantic dinner set up for us.

"When did you have time to set this up?" I was grinning from ear to ear, but am always amazed at his resourcefulness.

"I have my secrets." He winked and led me to the table, pulled out the chair like a real gentleman.
We enjoyed a nice dinner and a few glasses of champagne. Ok, it was probably more than a few, but it felt good not to have to worry about anything. We started fooling around. I was caught up in the moment when my phone started ringing. I thought to myself, 'who could that be'. There was no way I was answering it so I tossed a pillow at it, knocking it to the floor.

"That's one way to stop it." Axel grinned.

"Less talking, more kissing." I answered.


We spent the next few days with the gang. It was great meeting all of Molly's friends, they were very nice to Axel and I. Boris and I were cool, at least it seemed to be. I managed to catch his e-mail. I checked it a bit late, but the sentiments were still the same. While checking my e-mails, I noticed Sunny's birthday highlighted in red on the calendar. "Crap! I forgot her birthday." Before we left Paris I picked up some paints and brushes for her.

We packed up our various souvenirs as the bellboy helped us with our luggage. Pretty soon we were back at the airport. It seemed like we had been in Paris only a short time, but I was anxious to get back to the kids. Mom hadn't called to let us know of Byron's condition, which I took as a good sign, but I decided to call her anyway.

We were well into our flight back to Crescent Bay when I dialed Mom's number. It rang a few times, so I started to freak. Something's happened!! Why isn't she answering? A million horrible scenarios ran through my mind until she finally answered. The voice on the other line sounded out of breath, "Yes?"

"Mom, what's wrong, why weren't you answering? Is Byron alright?" I feared my voice would crack under the immense stress I felt at that moment.

"Ruby, I was going to call you before today. Byron's got… pneumonia." She sounded weary.

"Oh my God! Why didn't you call us Mom? I begged you to! Is he alright?" I was on the verge of tears just picturing my little baby. Sighing,




"We took him to the hospital because his cough had worsened and he was showing signs of dehydration. Ruby, I was so scared! I thought we were going to lose him, he was having trouble breathing. His small little body shook every time he coughed. We are going to see him now, that's why it took me so long to answer. I will call you the minute I know more, I promise."

I was furious that my mother had left me in the dark on the status of my own child and I was so worried about Byron. "Mom, you call me the minute you know anything. You hear me? Anything! I don't care what time it is. OK?"

My mom sounded tired, ashamed and sad. I felt bad for lashing out at her, but how would she have felt if the roles were reversed? "Of course, Ruby. I am sorry, I meant to call but…you know…things just happened so fast."

I took deep breath, it seemed to calm me a bit, "I understand mom and I'm sorry if I sounded agitated. We should be home in a few hours. We will meet you at the hospital, alright?" I hung up and just cried.

Axel put his arm around me after hearing my side of the conversation, "That bad, huh?"

"He's got pneumonia." I bawled, "He's been in the hospital for who knows how long? And what have we been doing? Enjoying a vacation! I feel like such a terrible mother." My body shook with each sob.

Axel kept his arm around me, "Ruby, you couldn't have known this was going to happen. You are a wonderful mother! I don't ever want to hear you say that you aren't. You have nothing to be ashamed of. Babies get sick, that's what they do. You can't protect them from everything."

I grabbed a napkin and wiped my reddening eyes, "What do you know of protecting? You're hardly home for the kids. If you aren't too busy doing whatever daddy wants of you. What about what we want, what we need? Do you ever think of that?"




Axel's eyes went wide with surprise. "What the hell, Ruby? Where did that come from?"

I don't know why I brought it up, I guess it's just been building for some time. "I'm sorry; I shouldn't have brought it up." The remainder of the trip, I just sat looking out the window. Why did I have to pick now to blow up? You sure know when to pick your battles don't you Ruby? I asked myself.




Upon arrival at the hospital, we were told Byron was reacting well to the antibiotics and would most likely be able to go home after a few days. I walked into the room and was shocked to see him hooked up to so many tubes and wires. I gasped, tears formed in my eyes. "Oh my poor baby." I rushed to his side and held his little hand in mine. His groggy little eyes opened just slightly. He smiled in recognition at Axel and I.




"How's my little man doing?" Axel asked him.

Byron smiled and tried to say something, I wouldn't have understood it even if I could hear him. He looked so frail.
"Can I hold him?" I asked the doctor.

"Yes, that would be alright. Just be careful not to pull out any of the tubes. I'll leave you guys for a few moments. If you need anything, we are right here."

Axel shook the doctor's hand, "Thanks for your help."




"It's my pleasure; you've got a great boy there." He left and closed the door behind him. I picked up Byron as I carefully reached under his IV and just held him in my arms. He weighed so very little. As the tears fell from my eyes, Axel came behind me and placed one hand on my shoulder and the other he caressed Byron's cheek.

"Axel?" I cried, "He'll be okay, right?" Looking at Byron, "We love you, Byron. Mommy and Daddy love you. You get better, okay? So you can come home and see your sisters." He giggled softly and yawned.

Axel laughed, "Little guy is worn out. Come on Ruby. He needs his rest. We'll come see him again tomorrow when he's had his sleep."

I carefully placed him back in the crib. We had brought in one of the souvenirs. It was a plushy frog in farmer's overalls. We got it at the little café we ate at. I held it up for Byron to see, as he reached for it, I carefully placed it in his arms.

"Sleep tight, honey. We love you." I kissed his forehead lightly.

His eyelids started to become very heavy. It wasn't too much longer and he was fast asleep. We met the doctor outside. I thanked him for all the care he was providing for Byron.



The car ride was eerily quiet. It was starting to bother me, so I broke it. "Axel…I'm sorry. I shouldn't have said all those things. It was terrible of me to doubt where your priorities lie. You are a great father to our kids." With tears streaming down my face...again…, I looked out the window.

He reached over and took my hand in his. "Ruby, I know I haven't always been there for you and the kids. I'm so sorry I had to leave you like I did, but you have to know, I love you and the children so much. Never doubt that. I will try to be there as much as I can. I promise."

I smiled, truly hoping that what he said was true, but for now we were together and that's what matters.



The next few days were spent visiting Byron in the hospital and tending to the girls at home. I was quite the busy girl. During the girls' nap times I found myself browsing the internet for websites that dealt with parents of multiples. I found this great one called babycenter.com.

They had a forum and a chat room. I spent a few moments looking at the site, just checking out some of the topics, when I came across one about living with preemies. There were many topics listed, some about some of the developmental issues your baby might face. I found this really interesting as I was already facing some with the girls. Leliana hasn't made any effort to talk. She sits there silently, while Celia is our little chatty Kathy. We have no idea what she is saying, but she's making lots of noise. One of the mothers suggested taking your child to see a hearing specialist, as this might be the cause of her speech issue. It sounded like a good idea. I decided to discuss it with Axel later on. I decided to join the chat room they had. For a while I was quiet, just kinda lurking around. "Listening" to what the other ladies were discussing. They then asked me for my story. I relayed the history of my pregnancy, the triplets now and some of the issues we were beginning to face as a family. The ladies were sympathetic and offered up some ideas and suggestions on how they were dealing with the same things. A few of them lived in different states, but there was one lady in particular that actually lived in town.




We had chatted on and off for a few weeks. I found out she has multiples too. She has twin boys named Robert and Justin. They are a few months older than my kids. We planned on a play date for the weekend. We thought it'd be nice to get the kids used to playing with others. And I would love to meet some other adults who can talk about the same things I am going through. The girls grabbed me out of my daydream, so I logged off and set about getting their dinner. I set them up in their highchairs,




"Well girls, what'll it be tonight? Mommy's special Corn in The USA or Peas on Earth?" They just happily banged their little hands on the trays. "Ok, Corn in the USA it is." I quickly diced up the corn and added some carrots. Set it down in front of them, "Ok ladies, dig in." They looked at me with a "What the heck is this…" look on their face. "Go on…eat it. It's good." I picked up a piece from their plate and ate. "See…yummy" Upon seeing it certainly was good, they started to pick up the little pieces. It was neat to see just how dexterous their little hands can be.

The other day, I woke up fairly early. I went to the kitchen to make some coffee and who should I see?

Byron sitting in the middle of the floor, he pulled out all the pots and pans and had stacked them into a little leaning tower. My eyes went wide in horror. I just knew they were going to topple right on him. I quickly ran to his side and took them down before they did. Byron just clapped his hands in joy. Upon putting the pots back where they came from (I'll wash them later) I picked up my little trouble maker.

"What are you doing up so early, you goof?" He was such a darling, I lightly grabbed his nose, "I got your nose, I got it. See?" I proceeded to show him that I indeed did have his nose. He pointed to mine, "Os." I smiled, "Good, Byron! Yes, nose."

I kissed him on his chubby little cheek and took him back to his room. "It's still early yet, Mr. You sleep a bit more." Yeah, like I believed that would happen, but I put on his lullaby mobile in the hopes that he would submit to the colorful animals. I peeked in a few minutes later and what do you know, it worked. He was sound asleep. Looking like the angel that he is.


Saturday rolled around; It was time for the play date with Brenda and her boys. I was kind of nervous. I mean, I haven't even "met" her face to face. But, I was excited to meet a new friend. Hopefully my fear of crowds was actually gone or she might think I am some freaky weirdo. I packed up a bunch of toys for the kids, plenty of diapers, blankets, snacks, my camera, my phone and I'm sure I forgot something, but no time to worry about it. I packed the kids into the Mini-Van and was off. We made it to the park right on time. I saw a woman with 2 boys, I assumed it was her.

"Brenda?" I asked pushing the crew in a stroller.

"Ruby! Oh wow! Look at these beautiful babies." She hugged me and gently pinched each of the kids' cheeks. "You are precious angels aren't you? Yes you are?" I smiled and started to set up an area where they could play with Robert and Justin.





We sat and chatted about our kids, our husbands, our childhood, and anything else that we could think of. I think we sat there for a couple of hours before one of my kids started bawling. I looked over to see Celia and Leliana fighting over a toy.




"You two stop it right now!" I said in my "angry mom" voice. I took the toy away from them. "If you can't share, then no one gets it." I looked over at Brenda and the boys, "I'm sorry, I think it's time I get these little monsters home. They are getting irritable, means its nap time. I enjoyed our conversation."


She gave me a quick hug, "Okay, Ruby. I had fun. Take care of yourself." She looked at her sons, "Say goodbye boys."

"Bye Bye" they waved.

"Come on, you little terrors" I told my brood. "Let's get you in bed."



Our anniversary is coming up, next month. I still can't believe it'll be two years. I wanted to do something special, but with the kids, leaving on a trip is out of the question. So, my plan is a small romantic "date night". Mom was going to come over and watch the kids for a few hours. There was a new Jet Li movie out that I know Axel really wanted to see. So, I figured we could go out for dinner and a movie. Short and sweet, but at least we'll be together. Axel came home from work; I was excited to tell him what I had planned for us.

"Axel, honey, do you know what's coming up soon?"

"Halloween?" he grinned like he was kidding.

"Boy, you better be joking." I said.

"I know, it's our 2 year anniversary. I wouldn't forget."

Laughing, "Yeah you won't. I won't let you. Anyway, I thought we could see that new movie and have a nice dinner. We can't do much aside from that. How does that sound to you?"

"That sounds great honey." He answered. Not soon after, the phone rang.

"Hello?" he answered.

"Axel? I need you to come over here right away. There isn't time to discuss it over the phone, just get here." Damon's voice sounded urgent.

"Sure thing. I'll be right over." He hung up and turned to me. "Looks like Dad needs to see me."




"What's it about?" I asked him.

"I'm sure it's nothing. Just work stuff. I'll be back for dinner." He kissed me as he left.

I went to the window and watched as his car left the driveway. I thought nothing of it, so I set about getting dinner ready. I thought a roast might be good, with some steamed vegetables. Since the roast would take a few hours, I decided to get out my old guitar and fool around with some notes dancing around in my head.




A few hours later, the roast is done and Axel still hasn't come home. It wasn't too weird. Axel works nights anyway and doesn't come home til early morning, but he said he'd be home for dinner. I wonder what held him up. I noticed he took his cell phone with him, so I dialed the number hoping to get some idea as to when he might be home. I'd hate for that beautiful dinner to go to waste.

The phone rang for some time. My call eventually went to voicemail.

"Umm Axel…where are you? You said you'd be home by dinner time. It's ready. Please call me and let me know you are okay. I love you honey. Talk to you soon."

Hmm… I was starting to get really worried when the phone rang.

"Hello Ruby," Axel sounded fine.

I was relieved to hear. "Hi honey. What happened? I thought you'd be here for dinner. I cooked an awesome roast and everything." I frowned, hoping he'd hear it in my voice.

"Oh, that sounds great. I'm sorry. It won't be much longer. I promise, I'll be home shortly."

"Ok, I'll keep a plate for you in the oven, alright?"

"Thanks, babe. You're the best." He blew a kiss over the phone. "I love you, Ruby."

"I love you too. I'll see you soon." I hung up glad that he had called, sad that I'd be eating alone, well not really. Kids are here mushing mashed potatoes into their faces.




"Good morning, honey. I missed you last night." I said as I kissed the back of his neck.

He turned to face me, "I know and I'm sorry. Dad needed me to give some trainees a tour of the warehouse. These guys are real dweebs; they don't have what it takes."

I placed my head on his chest and just laid there listening to his heartbeat. It was comforting.

"Well, I'm glad you're home now. Hey, you wanna teach Byron to walk a bit today? He's seems so eager to get himself mobile. You should have seen him last night. I turned the TV on for a bit before bed and he pulled himself up to standing, using the coffee table and walked himself over to the TV and turned it off. Can you believe it? I guess he decided it was bedtime for us."

"Yeah, I'll work with him a bit after my shower."

I got up and stretched. Yawning, "I'll get breakfast going." I leaned over and kissed Axel. "Love you."

"I love you too."


Axel worked with Byron for a good two hours. I just smiled and took a million pictures. The two of them were too adorable, with Byron falling on his butt and Axel shaking his head in amusement. It wasn't long until he had the hang of it. He wasn't going to be running marathons anytime soon, but he was getting closer. I was so happy for him.




"Awww, my little man, I'm so proud of you." I picked him up and swung him around. His giggle is the sweetest sound ever. "Muah!" I planted a big kiss on his cheek before putting him down.





I went in the kitchen to get myself a soda, when I heard Axel on the phone. I couldn't really make out what he was saying, but it seemed like he was talking to Damon. It sounded like he was leaving, but I don't know where to. He was talking in a hushed tone, so whatever it was he didn't want me to know. I peeked out onto the patio and saw he was writing something on a pad of paper. He was nodding as if in agreement to whatever was being discussed.






I heard him reply, "Ok, I'll be there shortly. You can count on me. I won't, okay, bye."

He hung up and quickly tore off the piece of paper and shoved it in his pocket. I smiled sweetly as I went out back to greet him. I had a soda in each hand for us.

"Who was that?" I asked as I gave him his drink. "It was Dad. He has a job for me." Axel took a long swig from his can. "Thanks, hun. I needed that."

I took a deep breath. "Where are you going?" His smile left his face.

"I can't tell you that, Ruby." I got irritated.

I hated when he did this to me. "Why not? Don't I have a right to know where my husband is going?"

Axel sighed, "Honey, you know it's only to keep you and the babies safe."

"I understand that Axel. Believe me, you've given me that line every time you go trotting off to where ever it is that you go. How long will you be gone, then?"

He looked like he was trying to keep his composure and not give too much away, "I don't know, Ruby, but I will be back as soon as I can. I promise you."

"That's what you said the last time, and you were gone for 2 ½ months. Axel, I can't keep living like this." I was nearly crying, but I think I was more pissed off than anything. There was no way he was going to leave us again without a word about where he was going or when he would come back.

"Ruby, you knew my job when you married me. Are you regretting that decision now?"

"Don't you dare turn this on me! We have 3 kids now, three babies that need their father in their lives. I hate the feeling of not knowing when you are coming back, if you are coming back." The tears finally came.




As they streamed down my face, I saw the hurt in Axels' eyes. "Honey, please don't cry. I promise, it won't take long and I'll be back before you know it."

He wiped the tears from my eyes. I looked up and gazed into his. "I'm serious, Axel. I won't do this forever."
I gave him a hug, just holding on as long as I could. "When are you leaving?" I asked.

"I have to leave in the morning. Ruby, trust me…I'll be back before you know it."

I didn't believe him, how could I? I've heard this line time and time again, but I was in no mood to continue arguing,

"I know. I'm going to go check on the kids."


The next morning, I awoke and he was gone. I looked downstairs in the kitchen, nothing. I looked in the driveway and his car was gone as well.




"Damnit! How dare he leave without saying goodbye!"

I sat there for a few moments, trying to figure out if what I was proposing was a good idea.

"If he thinks I am just going to sit here and fret and worry about him, he's got another thing coming."

I called Brenda and asked her if she would mind watching the kids for a few days.

"Sure, Ruby? But, why? What's going on?"

I hated to lie to her, but I couldn't leave them with Mom or Axel's dads. Too many questions might be asked.

"Axel and I got a chance to go to a Wedding in France. A friend of mine from High School is getting married and asked if we'd be there. I would love to be there for her but we can't take the triplets with us. It should only be a few days." I waited in anticipation for her answer. I even crossed my fingers.

"Sure, Ruby. No problem. Just leave a number where I can reach you if I need anything, okay?"

I breathed a sigh of relief. "Oh, thank you so much. I know it's a lot to ask you, I really appreciate this."

I gave her my cell phone number and the number to the kid's pediatrician. "If you have any problems at all, please don't hesitate to call the pediatrician. Her name is Natasha Harrison. Once again, thank you so much for this."

I hung up and immediately started trying to track down my husband. He didn't leave anything behind to indicate where he was going. Then I remembered he had been writing on that pad of paper, he took outside with him. It was still sitting out on the porch where he had left it. I picked it up and looked to see if I could see an imprint. I laughed in spite of my racing heart. Who would have thought that I'd be sitting her trying to play spy to find a rogue husband. I had seen on one of those CSI type shows, where an investigator took a pencil and rubbed over the blank piece of paper over the imprint and they could read what had been written. It seems so farfetched, I figured it couldn't hurt. Of course I couldn't find a pencil to save my life.

I finally found a crayon one of the kids had left out. I rubbed over the indentation left by Axels' pencil and the words just popped out. It was an abbreviation, but it read, "U 356 Gte 1" and underneath that he had written, "Mon 11am." Hmm, I was stumped. What did it mean? I sat there tapping the crayon against my teeth for a few minutes wracking my brain, when it hit me. I could have smacked myself it was so simple. It was United Airlines flight 356. Still didn't tell me where he was going. I decided to check the internet. See what flights they had for that particular airline. I checked the United Airlines website and could have kissed my laptop. The only flight scheduled for 11 am was going to China. Now, I was really agitated. What could he be doing in China? And why was it so hush hush? I didn't have time to sit there analyzing the "whys", I got the kids bags packed up, got them all in the minivan and was on my way to Brenda's house.

She was on the doorstep waiting for us, when I pulled into driveway. I gave her a quick hug and helped her unpack all the gear.

"Thanks so much for this. I am meeting Axel at the airport. He should have come with me so you could meet him."

"There will be other times I'm sure." She stated.

The kids all seemed generally happy to have this mini-vacation from home. I kissed them all goodbye,
"We'll be back soon okay? I love you. Be good for Mrs. Brenda alright?"

She turned to me, "You guys have a nice time. Don't worry about us, we're going to have lots of fun, aren't we?"

They kids just smiled and gurgled happily. I felt guilty just up and leaving like this and to top it off, I was lying to my new friend. I am a terrible mother. For a moment I thought I would call the whole thing off. I thought I need to trust Axel and his dad's to know what they are doing. That moment lasted for just that, a moment when I came to my senses. I said goodbye to Brenda and was on my way to the airport.

I arrived at the Bejing Int'l Airport. I hadn't really thought how I would find him once I got here. Then I remembered, our cell phones had GPS navigation on them. I wondered if it would work out here, assuming that Axels' plane had landed. I turned it on and set it to look for his phone number. It started to beep. I looked and saw that he was heading to Shang SimLa. I couldn't help but be excited at this little cloak and dagger stunt I was pulling. I know I am in a lot of trouble if anyone finds out, but at this moment I couldn't care less. I just wanted to find Axel. I found a taxi that would take me to my destination, all the while keeping an eye on the blip.

As, I had suspected, it stopped in Shang SimLa. I thanked the driver, gave him his fare and was on my way. I searched all the streets and alleyways looking for him. I knew he was here. He had to be. When finally, I looked down one particular street and who should I see, but Axel and Boris! Boris looked mad at Axel although I didn't know why. I just started running towards them. Boris must have told Axel I was coming, because he spun around. And boy did he look mad.

"What the hell are you doing here, Ruby?" he yelled at me.

"I came here to find you. What are you doing here and why is Boris here too?"

It all seemed very strange. Was this the job that Axel was sent to do? What did it have to do with Boris? And why didn't Axel just tell me? I finally asked all these questions to him instead of just in my head.
"I didn't tell you, Ruby because I knew this would happen. You shouldn't be here. You know how much trouble I am going to be in, when Dad finds out."

"I'm sorry, Axel. But I won't just sit back and play the quiet wife who never questions her husband's whereabouts. Like I told you before, you have responsibilities now. It's time to start taking them seriously or you may find us gone."




"That's just about enough! You need to come down off of that high tower you have put yourself in and join us in the real world! I was doing MY JOB! You just dumped OUR kids off on some stranger and left them! So, don't you dare keep hanging that over my head!" Axel fumed. "Now! We don't have time to continue this argument. We need to get you somewhere safe. I promise, we can carry on when we get home."

Axel and I hid in some remote shop, just looking at souvenirs like any other tourist here. We met up with Boris shortly after. No one told me anything then either. It was a quiet ride back to the airport. They made me wear a scarf over my head so as not to be recognized. Axel thought it would be best if I sat away from them, but in sight of them, so we didn't draw any unneeded attention. The ride back I replayed my actions in my head. I had abandoned my kids to run off and find my husband. I suddenly felt shameful. I was no better than he was. I cried silently to myself. I didn't know what I was going to do when I got home. I was worried that Achilles and Damon would find out that I had left, and I was worried about what they would do to Axel.

The weeks passed and no one ever mentioned my little rendezvous. I don't know if I was so super sneaky, they didn't notice, (Yeah, right) or, if they were just letting me stew in my guilt. (That seemed about right) I tried not to think on it too much. Our anniversary was coming up. It's been two years since I said, "I do" to Axel. I promised to love him in sickness and in health, for better or for worse, and I meant it, but a woman can only take so much. I knew we had to come to some sort of understanding or this conflict would never get resolved. Instead of going on a trip this year, we opted to stay home. I cooked a lovely dinner, followed by dessert. My movie idea was put on hold because I thought it more important to talk to Axel about what I had been feeling. We put the kids to bed early, because the time had finally come…

"Honey? We need to talk." I said quietly.

"Uh oh. I've got a bad feeling about this." He grinned but walked over to the couch where I was sitting.

"Axel, you know I love you. I've always loved you, since that week at camp…"

"Honey…" he interrupted.

"No…let me finish. I knew what kind of man you were and I loved you all the more for it. When you went to work with your Dad's, I was okay with that. But you have to realize what I go through each time you leave. I get no information, I have no idea where you are, how long you'll be gone. The months you were gone were the worst of my life."

He sat there listening to my words. A look of sorrow and regret crossed his face. It hurt me to see it, but I knew this was a long time coming and we needed to get it out there.

"I didn't know if you were alive or dead. I had three newborn babies I had to take care of alone. Babies, that need their father. I am not asking you to quit, I don't even know if you can quit. Right now, all I ask is that you talk to me. Let me know what's going on, so I don't freak out when you are gone for weeks at a time."

I paused and tried to read his face, it was difficult. He took a deep breath and spoke, "Ruby. It must have taken a lot of courage for you to tell me what you were feeling. I remember back to the week at camp. You were this over-emotional wreck. You'd cry over every little thing. I found it endearing…annoying sometimes…but I loved you and I looked passed that. I see you now, and I see how much you have grown from that emotional wreck to this strong willed woman. You have been put through a lot in the time we have been married. I know not all of it has been good. I am sorry for leaving you. I was only looking out for you and the kids. I thought the less you knew the better it would be. I can't promise you that I can give every little detail about my job, but I do promise to let you know more about where I'll be and how long I'll be gone. Anything I am able to tell you, I will make it a point to do so." He gently touched my cheek and smiled at me.

"You don't know how long I have been waiting to hear that." I hugged him and gave him a big kiss. "I love you so much, Axel. I can't imagine my life without you. Nor, would I want to." Tears welled up in my eyes and they softly fell down my cheek. "Oh, here I go crying again." We both laughed as we cuddled on the couch. "Happy Anniversary, honey," as we sat there and he held me, I didn't want the night to end.




He looked down at me, gazed into my eyes, "I love you very much Ruby. Are you happy you married me?"

I sat up, held his face gently in my hands, "Of course I am. We have our drama to get through like any couple, but I wouldn't trade these years we've had for anything. I love you, no matter what happens, that will never change."

The weeks flew by with not much happening. I was spending time with Brenda and her kids. I was working on some music pieces. Byron was our little "Mr. Mobile". He could be seen toddling all over the house. Stairs were kind of tricky for him, so we kept the child fence up. Don't want anyone taking a nasty tumble. Celia was still much smaller than Byron and Leliana. She wasn't as active as they other too were. She didn't seem to have a desire to walk. She was perfectly happy to lay around everywhere. I grew worried that she'd never walk if she didn't start crawling soon, but Natasha assured me that most preemies start a bit later than other babies. It was perfectly natural and in Celia's case she was a late bloomer. She said this is caused because the cortex – the part of the brain that controls the muscles- has had less time to develop. She thought physical therapy would be a good idea to help improve her gross motor skills and learn better ways to move her body. We set up an appointment for the beginning of November.


In the mean time, Halloween was coming up. I wanted to do something with kids this year, since it's the first year they can go out.

"Axel, you think you'd want to go with Stormy and I to the mall. We're going to take the kids trick-or-treating."

He laughed, "Are you kidding, Halloween is my favorite holiday to scare the crap out of the trick-or-treaters. You can't ask me to give that up?" he gave me that grin of his. I rolled my eyes at him,

"You men never really grow up do you? Fine, suit yourself. I bought a bunch of candy. I put it in the cupboard on the top shelf. Remember, it's for the kids….not for you to munch on."

I called Stormy to see what she would be wearing and she informed me that Sunny wanted to invite Eric Gregory, Molly's little brother. I thought that sounded like a fine idea. The more the merrier. I couldn't believe that sentence came out of my mouth. Guess I'm not the loner I once was. I smiled in spite of it; it felt good to be surrounded by people who loved me.


Halloween night arrived and we were ready. Celia and Leliana were cute little kitties and Byron was a cuddly teddy bear. We met Stormy, Sunny and Eric at the Mall. It was amazing to see so many kids in all kinds of different costumes. My kids seemed more in awe at all the colorful outfits there were to see, than getting any candy. I think it was more fun for Stormy and I than the children.

She let Sunny and Eric go on ahead, "Not too far ahead, you hear me, girl?" Stormy hollered after her.

"Yeah, I know." Sunny called back.

"Wow, I can't believe how much she has grown. She is so beautiful, Stormy. You have done a great job with her." I told her.

"Thanks Ruby, she is a blessing in my life. My own little ray of sunshine."

A few moments later they returned with their buckets filled with candy.

"Dang, you guys made out like bandits." I marveled at their "fortune".

Sunny was all excited, talking to Stormy a million miles a minute. "Can we have some now? Can we? Please, pretty please?"




Even Eric started in on it, both of them jumping up and down.

Stormy finally gave in, "Ok, ok but just a few. I don't want two sick kids throwing up in my car."

A collective round of praise from the two and they were diving into their stash. "Yay!!! Thanks!"

We continued to walk to the different shops that were participating in the holiday, the babies got countless numbers of "How adorable" and "aren't they just the sweetest things?" I was proud to show them off. It made me feel good as a mother. Considering everything that I had done in the past, I wanted to make sure that I never left them like that again. After a good two hours at the mall the kids were starting to get bored. We decided it was time to take us back home.

I said goodbye to Stormy and hugged Sunny and Eric, "It was great to see you two again. You guys are welcome at my house anytime you want, okay? Just ask your Dad and Stormy first okay."

They smiled, "Okay Ruby, thanks!" They waved their candy filled hands at me as I loaded the kids in my car.

"Alright guys, you ready to go home? Daddy's probably got the all the neighborhood kids scared."

Upon pulling into the driveway I could see a few kids on our doorstep. It looked like Axel was telling them a story. He had the flashlight up to his face, to give it an even creepier look to it. As I stopped the car, I heard the small group scream and then they broke out laughing at each other. Axel seemed pleased with himself as he gave this last bunch of kids some candy.




"Having fun?" I asked him. "Of course, this is my favorite holiday." I smiled at him and remarked on his choice of costumes. "Sometimes I wonder who the bigger kids are." I winked at him, "Now help me get our group in the house."

Once all the kids were put in bed and their gear stowed away, I could hear Axel in the kitchen rummaging through the stash of candy. I stood in the living room watching him for a moment. "Ahem!" I said while clearing my throat. His look made me crack up. Like a cat with their paw caught in the fish tank.

"What? I'm...um checking it for razor blades. You can't be too careful these days." He smiled and gave me a mischievous wink. "Besides you know full well, the kids can't have all this candy. And it's just going to go bad if I don't help them."

I picked up a handful and placed it into a small bowl on the counter. Then put the rest up high in the cupboards. "There you go honey, make it last." I laughed as I left the room.



It was a nice day to just sit and be a family. We hadn't had very many days like this. I could hear Axel in the living room with Byron. He had a book open and was showing him the different pictures.




"Daddy, Say Daddy." Axel would sound out the words and Byron would look at the carpet. "Come on Byron, say…Daddy."

Some garbled words would flow and then "...Ady"

Axel would clap and then try again. He was determined to have that as Byron's first words. I peeked in and took some pictures. I had been working with Celia to get her muscles stronger so that she could hold herself up. The physical therapist suggested placing colorful pictures or toys nearby. I placed her on her stomach and showed the pictures to her. This caused her to have to raise her head, which would strengthen various muscles. I would then place other toys a few inches away from her so that she'd have to move to get them. It was tough to see he struggle with her movement, but I also knew it was necessary for her growth. We took her back to the therapist on a bi-weekly basis, so they could do some work on other various muscles.
"She is making good progress." Natasha reminded me to continue to work on her neck and legs. "She won't be able to support her head if her neck muscles aren't strong enough. The exercises you are doing are helping her. Please continue to do them. Some other things to try, put her on her back. Place a toy a few inches away from her. This will cause her to turn over and try to crawl to get the toy."




I was thankful we had such a good pediatrician. She has been a godsend throughout my kid's last year.
"Thanks so much. We couldn't do this without you."




"It's my pleasure, Ruby. You and Axel are doing a great with your kids considering the adversities they've had to face in their short lives. Keep in mind, it won't be a bed of roses, you will face some hardships. It may seem like they'll never improve, but you have to push them. Encourage them and give them praise when they do something well. And keep yourselves positive as well. If you need anything, don't hesitate to call me."

When I got home I called Axel and gave him the news.

"You should feel proud of yourself, Ruby. You are doing a wonderful job helping these kids overcome the difficulties they face. I'm proud of you, honey." I heard him cup the phone and then say something muffled to someone else. "Ok, Ruby. I have to go now. I'll see you at home. I love you."

"I love you too, Axel. 'muah'" I blew him a kiss into the phone.


I sat down with my kids playing on the floor and I looked back on the previous months. I wondered, if I had the chance to do it again, would I change anything?




I thought about the confrontation I had with Boris, my issues with Axel and his job and now dealing with my children and their slow development. The answer I came to was, No. I wouldn't change a thing. I loved my life and I love all the experiences that have molded me into the person that I am now. Looking back on my life in high school I was a sad, over-emotional loser, with no real friends. My life changed when I was forced to go to that camp. I will always be thankful to my Mom for that. Marrying Axel has made me a wreck. I smile as I think of the woman that I was in the beginning and the woman that I am now. I think through it all I have been made stronger for my experiences and I am so thankful for them.






Stormy

Mom was down the hall in her room out of earshot from where we stood, getting dressed in clothes I brought from home. Dad wanted to inquire Judy, mom's nurse, about her behavior and mental status as of late, because he hadn't been able to visit as often as he'd like. Securing his own handy business has dominated most of his time.

"Rain has had two episodes within the last three weeks . The most recent one happened about three days ago." explained Jane, almost whispering. "I found her on her knees folding her arms over head as if protecting it and her face." Judy demonstrated what mom had done with her own arms. "Then, she started to cry, apologizing for some offense."

Dad furrowed his brow. "So, the new medication isn't working." he said in conclusion, more so to himself.

"It definitely works...." Judy replied, "if you want a zombie for your wife. It makes her too lethargic. She wouldn't be able to hold down a job and raise a child in that state. We are working on meds and other interventions that will be sufficient enough for her to cope in the real world.

Dad stared at Jane a moment longer as if searching his mind for something eles he could possibly ask while he had the chance to. He looked away shaking his head. I know dad cares, but I feel something is lacking from him in mom's pursuit to mental stability. I just don't know what that is yet.

I smiled at Jane. She seemed to genuinely care about trying to get mom better. I've always had that feeling about her. "Thank you Judy. What else can we do? I mean, is there any hope….?" This was my first time speaking up and asking what we could do to help mom. Usually I'd just visit to only spend time with her, but dad was the one who asked all the questions about mom's condition in private.




Judy looked behind her, down the hall towards mom's room, then leaned close to me, while looking at dad. "Let's finish this talk at a later time. I don't think it's wise for your mother to open the door to see us all huddled together talking about her." Judy whispered.

"Okay." I whispered back.

Judy handed dad a small white paper bag that contained the medication mom needed to take this afternoon.

"I hope you all have a wonderful day." She smiled at the both of us, lightly touched mine and dad's arm, then retreated past the family lounge towards the nurse's station. I am definitely coming back here to have a chat with Judy alone, because personally I feel we could do more. Dad has never gone into detail with all that's going on with mom since she took up residence here at Hope Center. He has always kept most things to himself, but then again I was young. Now that I am older, I will ask Judy and whoever else that's working close with mom, any questions I can about her. I hope I can handle whatever they tell me.


After mom got dressed, we made our way to the Greggory's household to collect Sunny and Eric. We dropped her off there because we wanted a quick word with Judy concerning mom, and Sunny is way too young to know every issue going on with her.

When dad pulled up at their house, he honked the horn so that Sunny and Eric could come out to the car. Morgan opened the door and Sunny and Eric peered out on either side of her before racing to the car laughing on the way. Morgan waved good bye as they jumped in the back seat with me. Even though this my car, dad wouldn't be caught dead in the back seat with kids and as for mom…..well, her behavior is unpredictable, so it's best she sits up front too. We headed out to Pinocle Lake to celebrate Sunny's ninth birthday.

Pinocle Lake was perfect for BBQ's, relaxation, and fishing. Right away I secured a little area about twenty-five feet from the shimmering lake, laid a blanket on the grass near one of the picnic tables and set the snacks out for everyone.

The kids joyfully skipped on over to the swings. Looking at them play had me reminiscing about when Molly and I used to play around like that at their age. I turned my attention to mom, but dad kept her occupied by having her help him get the hot dogs and patties on the grill. Cool! That was my cue to get my fishing equipment ready for casting.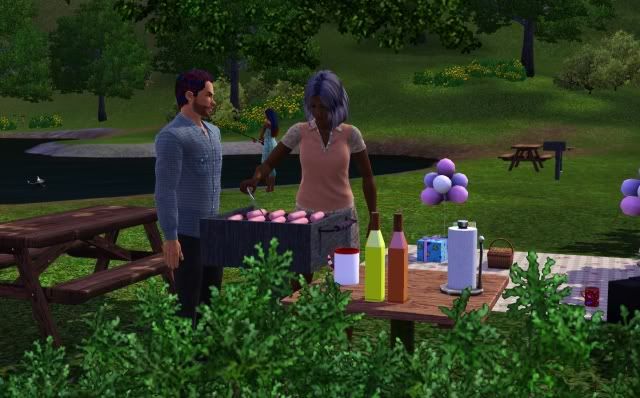 From where my fishing pole sat anchored in it's hook, I glanced at the kids and noticed that besides playing on the swings, Sunny and Eric were playing tag with other children. Some time after that, they played a bit of make believe. I think it was pirates or something..... Yep, it was pirates. Eric made me laugh with his pirate jargon, pointing a stick at me, which was his sword, and told me to hand over the treasure. So, I reached in the cooler , grabbed an ice cube and quickly dropped it down his shirt. He ran off screaming and laughing. Sunny was showing mom some " treasure" she found in the dirt. These kids are great.

We ate hot dogs and hamburgers and I was able to catch a few fish in the few hours we were here. I waved the kids on over to have Sunny help me reel the catfish in. She was quite excited. On the next tug of the line, I assisted Eric with reeling one in as well. Afterwards, the kids grabbed a drink and went back to the swings.




A little later, while dad was using the public restroom, from the corner of my eye, I saw mom wander off. I left my fishing post, then jogged over to her to see where she was going.

"Hey, mom, where ya going? Just taking a little walk?" I asked in a fun, cool manner when I caught up to her. I glanced at Sunny and Eric, making sure they were still in my sight.

"Yes." Was all she replied. We continued to walk.

"It's so nice out today. How the lake sparkles, and…" I felt silly talking to her this way. I am not the bubbly type. However, I didn't want to sound upset or controlling. "How are you feeling, mom? Want something to drink?"

"No…" she said in an even tone. I looked over at the kids again. They were running around some trees.

"Mom, let's go see what Sunny and Eric are up to." Trying to sound chipper, hoping to sway her to walk in their direction. "We could get the cupcakes out and sing Happy Birthday to Sunny." I suggested, smiling. I didn't feel like smiling, because I was losing sight of the kids as we walked on and dad wasn't back from using the bathroom.

"No, not yet." Mom replied slowly. I think her mind was drifting off into her another world. A few minutes later, I looked back to see if I lost Sunny and Eric. I did. Crap.

Mom isn't safe walking alone like this!

Argh!

And dad, where the hell is he? I can't see the restrooms from here because they were tucked away behind lush trees and shrubbery. I wanted so bad to grab mom's hand and drag her back to our site, but I don't need to cause a scene and she'd probably fight back.

I quickly made up my mind and ran to where I saw the kids last. They were fine. "Hey you two! Let's go have cupcakes!" I yelled. I wanted them near me, so I could keep an eye on them, our belongings, and wait for either of my parents to come back. Dad will have to deal with mom if she doesn't return. These kids safety was top priority, but I hope mom won't do anything to put herself in danger.

"Where's mom and dad, Stormy?" asked Sunny, finding a spot on the blanket next to Eric, when we got back to our picnic area.

"Dad went to the bathroom a while ago, and mom is taking a walk" I rubbed my eyes, annoyed, wondering why dad was away for so long. I paced a minute then noticed my fishing rod disappearing into the water.

"Noooo!" I pulled on my hair, then turned towards the kids. " You guys stay here!" I ran the few feet to the lake where my pole….the good one, the expensive one, was now gone. I stomped my foot. I was upset. I took off my flip flops and walked in the water hoping I could feel the end of the pole with my feet, but I lost my footing instead on the slippery algae lining the lake bed and fell on my rump. I heard some giggling behind me as I sat in the water a little disoriented. A minute later, I crawled the few steps out of the lake, then slowly stood up, surveying the damage done to my clothes and to see if I hurt myself. I was physically fine. I am begining to think, today is not my day.

"That was funny Stormy!" laughed Sunny. I glared at her, which wiped the smile off her face, but her stifled laugh badly seeked release.

I looked in the direction mom had originally taken, hoping she was on her way back, but she wasn't in sight. Where was dad? I walked towards the kids, plopped down next to Sunny splashing her a little with the water that was dripping off me.

"Ugh, Stormy, you're getting me all wet!" cried Sunny, as she tried to push my arm away from her, but I nudged her back. Eric covered his mouth with both hands squeezing his eyes shut trying not to laugh. That made me smile. But damn! I lost a good fishing pole!

Ten minutes later dad strolled up, looked me over like I was crazy and asked what happened to my clothes and where had mom gone to. I love my dad and all, but I wanted to tell him off for taking so long to come back, but not in front of the children. I stood up, went to him, upset, voice low so the kids couldn't hear, AND trying to sound civil, I explained all that happened. He immediately set off to go find mom.

"Please be ok, mom... " I murmered. I returned to the blanket, laid on my back, draping my arm over my eyes from the intense light of sun.

Sunny asked when will mom and dad be back so she could have her cupcakes and open gifts. I told her to be patient just a little longer. Sunny and Eric began to talk about their teachers and favorite activities they love to do during recess.

Forty-five long minutes later, my phone buzzed, telling me I had a new text message. I sat up reaching for my duffle bag to see who it was when, in the distance I saw dad bringing back with him, a disheveled mom. I told the children to remain here a minute as I met my parents half way. I asked dad where'd he find mom. He obviously didn't want to talk about it until I blocked him from walking any further. With an exasperated sigh, dad said he found mom by the entrance of an old mine shaft, poking around at things. I kept myself from smacking my forehead, and running my hand down my face in disbelief and utter shock. Overall, I tried my damndest to keep my expression neutral….she could have been hurt fooling around that old mine!

We finally got to the whole happy birthday thing, ate cupcakes and watched Sunny open her gifts. When it neared evening, we packed up our belongings and took Eric home first, then mom back to Hope Center. When we arrived home, Sunny was joyfully expressing the awesome time she had today, as I checked to see who text me earlier.

It was Beau.

I kissed Sunny on the forehead, told her happy birthday once again, and for her to take a nice bath. I hurried to my room to call Beau.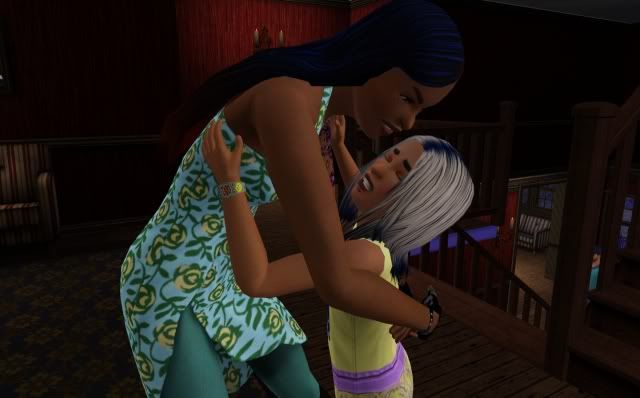 Two days later, I phoned Boris at the crack of dawn because it was afternoon in France, where he was attending the week long Nectar Festival. I was curious to know what interesting things he's done and seen so far. I also wanted to let him know when I was making my way out there since our annual meet-up isn't for another five days, which was also being held in France.

On the phone, Boris had me laughing about the nectar squashing one of the locals that ran the nectar machine asked him to try. It seemed fun from what he was telling me. They provide little bathing suits for you to wear, but I'll bring my own if I happen to try my hands in nectar squashing. I don't want to wear anything someone else's crotch has been in. I ended the call after telling Boris i'll be out there two days before our meeting, because I'll need one of those days to get some work done for Sanders when I get there.

Later in the day, I delivered a combo of angel fish, catfish and herring from my ice filled water cooler to Andy, one of the new guys Sanders hired, then grabbed an icecream cone on the way out of the store, then off to go about my daily routine. That night, right before I went to bed, I decided to start packing a few things for my trip to France. If I pack a few items each night, it will be less stressful than trying to think of eveything I'd need a few hours prior to heading to the airport. With a grin on my face, I thought, that's my philosophy anyway.




After a nice hot shower, I set out everything needed for my fishing trip tomorrow morning, ordered room service, then phoned my family and Boris to let them know I finally made it to France. Before I hung up with Boris, I quickly asked if he'd like to join me on my trip to the lake tomorrow, explaining why I had to go, and that it will probably be fun. If anything, relaxing outdoorsy style. Boris didn't mind coming along, so I told him to be ready by 5 a.m sharp. He moaned like he was in pain. I asked if he was alright, my knowing getting up that early is a drag. He paused a second, saying he was fine and that he had to take a care of a few things. I laughed to myself as I pressed the end button my on phone.

The remainder of the day was all about resting up. So, I took cat naps, watched french soaps on TV, and snacked on fruit and sandwiches. Tonight, I should have a fitful sleep, because I had to be vigilant and hopefully deliver what Sanders wanted tomorrow! There's a nice fat check in this gig!




The following morning I left the engine running to my rental while I hurried to the door of the guest house Boris stayed in. Madame Rousseau answered a minute after I knocked loud enough to wake up the dead. Well, the door was very thick and I didn't see a doorbell anywhere until Madame Rousseau pointed it out to me. I apologized, and asked for Boris. I declined her invitation to come in while she went to go get him, because I didn't want to leave the car out of my sight while the engine was running. Also, I wanted to get a move on. A few minutes later, a sleepy looking Boris, came downstairs with his bags, politely mentioned to Madame Rousseau he'll be back some time tomorrow morning. She was very appreciative of him letting her know of his whereabouts, should she worry later on when Boris hasn't returned to his room for the evening.

I took one of Boris' bags and we both lugged it all into the car. With that, Madame Rousseau waved good bye from the doorway and wished us a safe ride to the lake. I also needed to get to our campsite early today, because the type of fish I needed were most active in the late morning.

It took us about an hour and a half to get to the campsite and in that time we talked very little, but mostly enjoyed the scenery. When we finally arrived, I stretched my limbs when I got out of the car as looked around the area. It was just as I remembered it. Beautiful and serene. The air was cool, with very little wind, but with promises of warm weather later.

"Hey, this area is quite nice." said Boris, looking around as well.

"It's more beautiful than I remember." I paused a minute, curling my lip. " Though, I sure hope the catch is as good or better than the last time!"

Boris chuckled, as we both turned to grab our supplies from the car. We set both of our tents up first, and food stuffs next.

"Oh! Boris, if you don't mind, I'm going to cast 2 lines right now, then help with the rest of our things." I grabbed my fishing supplies and ran the short distance to the lake to get things underway. After the poles were secured in their hooks. I went back to where Boris was, as he pulled a book out of his bag for reading.

It was early morning still and I gave Boris his space to relax, read, and snooze while I watched the poles. I had my phone on me to text my friends to see how they were doing. An hour later I got my first tug on the line. I was prepared this time. My fishing pole and the components attached to it was stronger and more efficient to help me reel these bad boys in. Every so often Boris would sit on his haunches next to me for a little chatter.

The day went by very well, having caught a little over what Sanders asked for. I made sure the fish were properly stored, washed my hands and arms, then went to go rest next to Boris, where he was reading a book on the blanket we laid out earlier. The juicy grapes from the basket in front of us that Boris brought to share from the nectary were very delicious, but my mind switched over to thoughts of mom. They were always the same thoughts. The main one being, my wanting her to live the life she never had.


"You know what I want in the whole wide world?" I asked quietly. The lake rippled continuously, growing darker as the sun faded. From the corner of my eye, Boris gently laid his book down then looked in my direction.

"What do you want?" His tone matching my own.

I closed my eyes, absently biting my lower lip. Right now seemed the perfect moment to just voice my feelings to someone. Perhaps not all, but definitely something. I looked out over the lake once again, then turned to Boris, as he patiently waited for me to answer.

"For mom to heal where she's broken." My thoughts went to her while I stared at him, or through him. He smiled, and squeezed my hand. He didn't pick up his book anymore, but sat there with me as we looked out over the lake.

"We better turn in so we can get an early start back to town tomorrow morning." I said, breaking the silence, twenty minutes later. I unzipped the flap to my tent when I got to it. Before crawling in I turned to Boris, who was stretching his limbs and yawning.

"Boris….thank you" I was grateful for his support. When it comes to mom, it's very hard to talk about it.

"For?" he genuinely wondered, tilting his head to the side.

"For listening, and being here." I crawled in my tent.

"Anytime. Good night, Stormy." I could hear him going inside his tent.

"G'night, Boris." I was out in five minutes.






Sanders left me a voicemail the evening after I shipped the fish that was a pain to package, to say it arrived safely and that he was happy with the haul. The message ended after he mentioned a few minor things that was going on at work. I texted Boris the good news.

That evening and a few nights after that, I spent time with my friends for our third annual meeting. I finally got to meet Laila and see Colin again. We did the usual, enjoy each other's company, shared what we all have been up to as of late, and talked about old times. I love them all very much.






It was a hot beautiful July afternoon when I sat before Judy in her office, happy to feel the AC cooling me off from the sun that was trying to burn me alive a couple minutes ago. It didn't help that I wore long sleeves, but I felt compelled by something or someone to wear these silly hot clothes. Anyway, I wish I could have made the appointment for some time in the early morning when it's cool. The only thing is, during the summer months, I work five mornings a week. If I so choose to, that is. I am only required to work three mornings a week. I am saving up my money for a nice down payment on a house a few years from now.

Judy was going to start discussing a few things about mom. But first she wanted to talk to me about herself, and why she cared so much about getting mom's mind functioning the way it ought to. Judy said when she was kid, she was in a similar situation as mom, but the only reason why she is mentally sound today is because of the support from her aunt, who helped raise her after being removed from her parents, some spiritual guidance, then eventually her own determination to get over the pain she endured.

Over time, it got easier and easier to accept the fact that what happened to her, did in fact happened, and it was time to move on. But, incorporating emotional and spiritual support worked wonders. Patience from her aunt, husband; back then her boyfriend, including her own will of wanting to be free from the pain was extremely important and helpful. Judy went into detail the ups and downs she faced in recovering from the abuse.

Personally, what Judy has shared with me so far was a great deal to take in. She must of known what I was feeling at the moment and suggested I come back to speak with her privately once every few weeks or so, or whenever I felt ready to hear the next phase, which was about mom's background. I explained to Judy I already knew what mom went through. After she asked me what I thought I knew about mom, she shook her head and told me there was more to mom's story that has been gathered over the years from counseling.

Judy wanted me to know everything and try to understand where mom was coming from. I'll be back.







Just before meeting Boris for lunch at the Bistro to discuss something I could tell was very important to him, I set off early to buy a 'Do-it-Yourself" book because frustratingly enough, things seemed to be falling apart around the house. The worst happened to be the dripping water from the pipe under sink Sunny and I share upstairs. Dad had been too busy with his business to fix anything around the house. But that was just another excuse to me. He's always been lazy to fix things around the house, but a very hard worker when out on a job. So, the cute little tool kit Ruby got me for Christmas will come in handy.

After purchasing the book, I flipped opened the book when I left the book store, to search what page sink repair was on in the table of contents, while walking towards the Bistro.

"Hey, Stormy!" Yelled the familiar, soft, but masculine voice from my right. I looked up from my book to discover Cosmo waving at me. "I know your blue and red hair from anywhere!" He grinned. Yeah, well I know his purple hair from anywhere too. I walked over to him while he stood in line at the theater.

"Hey Cosmo! It's been a while. What have you been up to? What movie are you going to see?" I looked past him to see a crap load of people in line before him.

"Crystle and I are going to see 'Killer Klowns' before going in to work! It just came out today." He said excitedly, smiling his dark eyes at me.

Oooo, sounds creepy, but awesome. I said hello to Crystle when she turned to say "what's up" with a gesture of her head. I didn't recognize her from behind. The last time I saw her was at the beach for the gang's first annual meeting. I wonder if these two are dating…not that I'm nosey or anything.

"Oh?" I asked, looking at Cosmo, again. "What do you do for a living, if you don't mind my asking?"

I have seen Cosmo around town only in passing, so I was curious what he's been doing since graduation. After all, I still had a little time to spare before meeting up with Boris anyway.

"Nope, I don't mind you asking. I work at the cemetery-" I was going to ask doing what when….

"And I'm a tattoo artist" butted in Crystle. "Hey, why don't you come see the movie with us?"

"Yeah! The more the merrier!" chimed in Cosmo. "Rafael and Aria should be here soon." he said, looking down the street in both directions for them.

"Perhaps some other time. I have to go meet my friend in half an hour. You guys enjoy the movie." I waved to them and walked off.

"Yo, wait a sec!" Crystle came up to me, flipping open her phone. "Let's exchange numbers so we can all hang out some time." She pressed a few buttons on her phone, then looked up at me, waiting. I guess she was serious. But they seem a little too weird for me.

"Sure, why not" I shrugged my shoulders, gave her my number while she punched it into her phone and saved it. I did the same with her number. She said bye and jogged back to where Cosmo was shaking Rafael's hand and giving Aria a hug. I turned away, heading to the Bistro once again.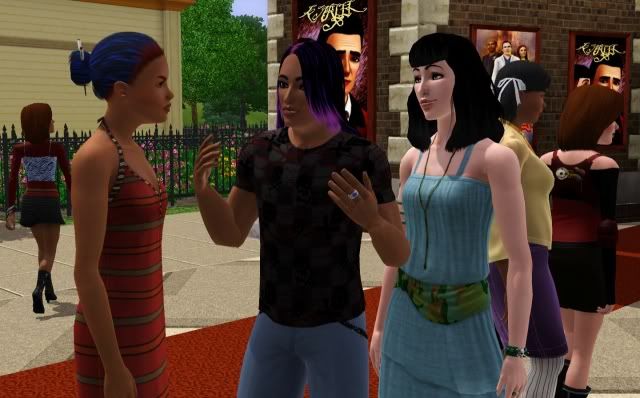 As we ate at the Bistro, Boris explained what happened in Riverview and asked if I could help in any way by visiting Chief of Police, George Dean, to see what info I can gather up on Denis' disappearance. Boris' father was adamant about him not returning to Riverview just yet. Sure, I'll help my friends do just about anything, but showing up asking for the chief of police may be a little tricky because I only met him once.





That evening I told dad that I'll be out of town tomorrow to take care of some business to meet with a friend in Riverview. He wasn't too thrilled about the news, which meant he had to remember to pick Sunny up from school in midst of his busy schedule. I went to bed early after printing out the directions to the police station where George, Beau's father worked. I wanted to be in Riverview by eight in the morning.
The drive to Riverview was nice. The traffic flowed nicely, but those commuting in the opposite direction into Crescent Bay was very busy.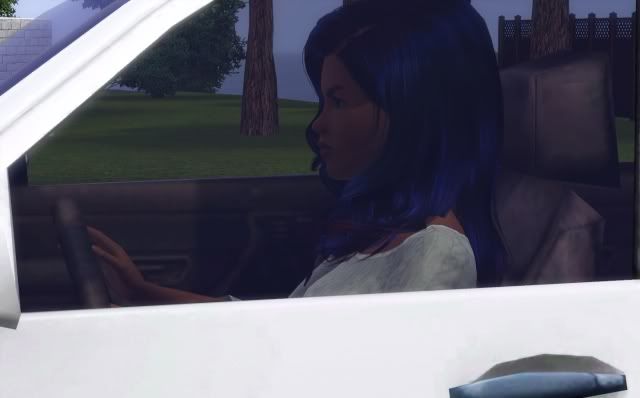 When I approached the guy sitting at the front desk of Riverview Police Station, I squinted down at his nametag. Carter, J.

Cool.

"Mr. Carter, may I see Chief Dean at his earliest convenience, please? " I smiled.

"It's Lt. Carter… and Chief Dean isn't in. Besides he has no appointments scheduled with anyone today. Good day." he said with an attitude, not looking up at me, as he fidgeted around his desk, then opening a drawer to the file cabinet directly to his right.

"Oh, see, we are friends. I'm sure he'll-" I tried to explain…

"I said, good day!" Carter interrupted, still with no eye contact.

How rude. OK, two can play at this game. I cleared my throat.

"Listen. First of all, I would have called you Lieutenant if your nametag properly stated your title. More than likely you were demoted to paper pusher, which is the probable cause of your crappy behavior. But, don't take your issues out on me." He looked up at me, pissed. He opened his mouth to say something else but before he could, I cut him off, my voice getting a little louder. "And because of your crappy attitude, I will make sure Chief Dean knows how you treated me." I was bluffing mostly to see if it would scare him to cooperate.

The jerk stood up, pointed a dirty finger nail at me, cursing me out. I had to remind myself I was here for Boris, due to his very good friend missing.




"Hey, what's going on here, Carter?!" An officer came through the door towards us that lead to the back of the station, then quickly put his arm out in front of Carter when he noticed his expression. Carter had the crazy look in his eye and seemed about ready to jump me. The cop looked from me to him and back to me again. "Take a break man. I'll handle whatever she needs."

"I'm not a freakin' paper pusher!!" screamed Carter, still pointing wildly at me. Guess I touched a nerve. Other officers ran in as I kept my eye on Carter. The guys managed to get him to take a break.

"Stormy?" I turned, and coming from outside was Beau. Oh my gosh. I was temporarily paralyzed. Was he always this handsome? He walked up to me, looked me up and down, and took my hand. I swear everything around me went dead silent. "What are you doing here?" He asked then hugged me. "You look great!" And you smell great, I thought to myself. He was probably just coming on shift.

I wanted to scream because he felt so nice in my arms. I bit my bottom lip from doing so.
He released me and in the background I heard someone say 'You are so in trouble now, Carter.'




Twenty-five minutes later, sitting outdoors at this cute little café, now calm from the fiasco with Mr. Paper Pusher and all, I went over the tiff I had with him, which Beau said he'll take care of. I paused a minute to sip my ice tea, then told Beau part of the true reason why I came out to Riverview. I was subtle, but asked enough questions to get Beau talking.

Evidently, there were no prints, or force of entry at Boris' vacation home. Perhaps Denis stepped outside and that's where his kidnappers nabbed him. Given the time of night it happened, no one would have seen anything. Even though Boris witnessed a few people running out towards the river, it was only a ruse. The police sent their guys out there, but found nothing near, or in the river from their, not so handy scanning devices. Even the K-9 unit wasn't able to detect much. The true kidnappers left in a vehicle that was probably disguised as a service truck.

As Beau spoke, he seemed to be getting upset. I asked what was the matter. He explained how being an officer limits him from going after guys like the ones that took Denis. Once the bad guys are out of jurisdiction, and the person kidnapped has been missing for over a period of so many hours, the problem is no longer theirs. Beau provided a few other examples of how being a cop hinders what he would like to do.

And because Boris is his friend, he especially wanted to help. It bothered him that he couldn't. This was one of many reasons he'd been thinking about becoming a private investigator. Someone could hire him for jobs that won't restrain him to just Riverview or surface jobs. Being a PI would allow him to go undercover, delve deep in a situation, and travel if need be.

Everything Beau has said to me was very interesting, but finding Denis will have to come from someone else. I know one thing is for sure, the man sitting before me is….awesome.




The following day I met up with Boris once again at the Bistro. This time he brought his father along to hear if I was able to obtain additional information from George. I explained that I did not talk to George, but to Beau instead. Achilles slightly raised a brow, but I wasn't finished with the whole story yet. I went on to say that after Beau informed me with all he knew about Denis' situation, I casually asked him if perhaps his father would know more. The answer was no. Beau has tried time and time again to see if his father had come up with new reports or if they could help in some other way. Still, the answer was a solemn no. It was totally out of their hands now.

Evidently the information was old news to Boris and Achilles. I felt a little awkward and sad that I couldn't help my friend. I thought back to when Beau wished he could have done something more. At least find a clue to where they'd taken Denis. But nothing came up.

I looked down at the table feeling bad, then up at Achilles. He nodded his thanks as Boris eyes stared at nothing, lost in his own thoughts. Perhaps wondering if Denis was still alive, or being tortured somewhere, or….

I stood up, leaned down to give Boris a hug and apologized for everything he was going through. I knew Boris needed some time alone. I said bye to both of them, and that they were in my prayers, then took my leave.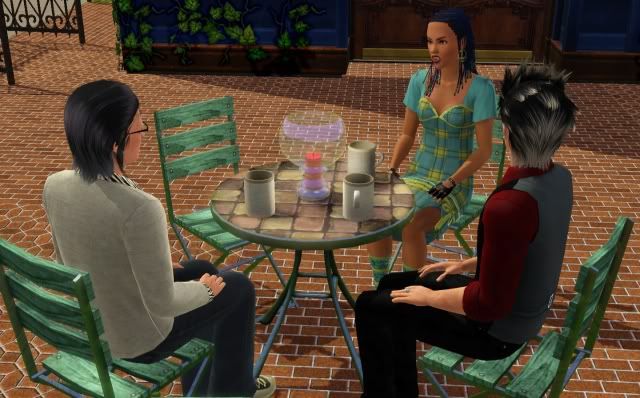 Slowly, I strolled home, the cool november air caressed my face, but not in a cruel freezing way. I had just dropped Sunny off at Eric's house for the day so I could do a little something for my birthday, even though I made no plans.

I think I'll give Crystle a call in about an hour or so to see if she, Cosmo, and the others are doing anything this fine Friday afternoon. After all, in the last two months, she's been trying to get a hold of me so we could all hang out, but something else always came up. And besides, it takes time for me to warm up to people. I'll give her a call anyway. They are probably a fun bunch.

When I walked in the house, I noticed Sunny's bag of Halloween candy lying around on the living room floor. I snatched it up to tuck it away in her top dresser drawer as I thought back on that Halloween night when Ruby and I took her children, Sunny and Eric to the mall. We had a lot of fun and the kids were able to get loads of candy and other treats. Maybe next year I'll take them up to the cemetery, where people dressed as ghouls and goblins handed candy out to the kids, then have a go through the haunted house. Seems fun to me.

Just when I was going to call Crystle after tidying up my room, my phone buzzed on my bed. I picked it up to see who was calling. It was Beau.

"Hello, Beau." I answered quickly, happy to hear from him. I hope he didn't notice my excitement.

"Hello, Stormy." I heard a bunch of noise in the background. Was he driving somewhere? Probably out patrolling. Wait, doesn't he work nights? No, maybe he switched to days. I think cops switch from nights to days every other month. Sigh I could just ask...but before I was able to… "How are you?" he interrupted my thoughts, finishing up the greetings.

We talked for half an hour when I heard what sounded like him getting out of his car, shuffling things around, then closing the door. He was still talking to me as I finished wiping down the kitchen counters. A minute later the doorbell rang.

"Hmm…Who could be at my door." I whispered. Perhaps a delivery man? I don't remember ordering anything. I walked towards the front door. "Beau, someone is at my door" I reached for the handle to open the door. "Give me just a…" when I cracked the door open, my heart stopped. "…second…." I finished with a whisper.

There he was standing before me, smiling, with a dozen red roses in his hand and a gift wrapped in pretty paper tucked under the same arm as the roses. In the other hand, his phone still at his ear…. but so was my phone. I think my jaw fell to the floor.

Beau.

I shook my head when I realized I never gave him my address. I furrowed my brow. My house and yard is a mess! What if my mom was visiting, and doing weird things out there?! And the old furniture in the house? Oh, man, I wanted to tell Beau to go home, then run to my room out of pure embarrassment. I'd never call him again.

"Happy Birthday, Stormy! I have a surprise outing for you. I know you're not interested in sports like I am, but I have the best tickets for the football game at the stadium, and I want you to join me. It's outdoors, which I hope is perfect for you." He beamed.

"How did you get my address?" I was a little cross. I looked around my yard as I stood on the porch, pulling the door closed behind me. Oh my goodness, where is the nearest hole for me to crawl in.

Beau explained that he got my address from the postcard I sent to him after I returned home from France. I forgot I mailed it from here, and put my address on it. But that doesn't mean he could show up at my door all willy nilly with beautiful roses and those gorgeous eyes of his.

"I'm really sorry to show up unannounced, but we are friends, Stormy. I wanted to surprise you for your birthday. Hang out, and have fun." Wow, his teeth are beautiful too. Well, he definitely surprised me, and he doesn't seem to care about what my house looks like. His focus was solely on me. He handed me the flowers and the gift.

"These are beautiful, thank you. I – I'll just put these in some water. " I opened the door just enough to squeeze myself through, almost damaging the flowers. Damn.

Back in the kitchen, I put the gift down, and carefully put the roses in a vase, then filled it half way with water. As I admire the roses, I thought about my behavior with Beau. This man drove two hours to come see me for my birthday, bought me expensive roses that I almost destroyed…Why? Because I have issues. I shook my head now upset with myself. I never cared what anyone thought about my house before….

But, Beau wasn't just anyone…




Out on the porch with Beau again , I smiled and asked about that game he wanted to take me to. He was excited and told me who was playing, then asked if I could get ready if I still wanted to go since the game began in an hour and half. I told him I was ready now if he wanted to get going. All I had to do was call dad to tell him I was going out for a while so he could pick Sunny up from Eric's house by 6p.m. I plan on enjoying my whole day.

While at the stadium, we cruised the different souvenir booths, then bought hotdogs before finding our seats. I had a great time looking at how everyone reacted to the game. Beau was all into it, yelling at the guy when he fumbled the ball. Later, he asked if I saw the touchdown from our team. I didn't, but I saw the replay on the big screen. Being here reminded me of when I used to go with Molly to Tony's football games. I paid more attention to what was going on around me, including watching Beau having a good time. This is such a wonderful birthday.

It was night by the time the game was over. We were walking towards the parking lot when I was going to apologize to Beau about my bad attitude earlier. But before I could say anything, he took my hand in his, which sent shivers up my spine, as looked up at his face. He seemed calm, expression neutral, as I wondered what he was thinking at the moment. Next thing I know, he faced me, and….

Stole a kiss….

Electricity flowed from my head down to my toes. My heart stopped, once again, then went a mile a minute. This was my first kiss, my first date….perhaps even my first love.